Tidbits – Feb. 23, 2023 – Reader Comments: Derailment = Nationalization; Florida Bans Black History; Earthquake Hits Syria Too; FBI Still Uses Informants; Amazon Labor Union; Charlene Mitchell; Communists in Closets; Building Resilient Organizations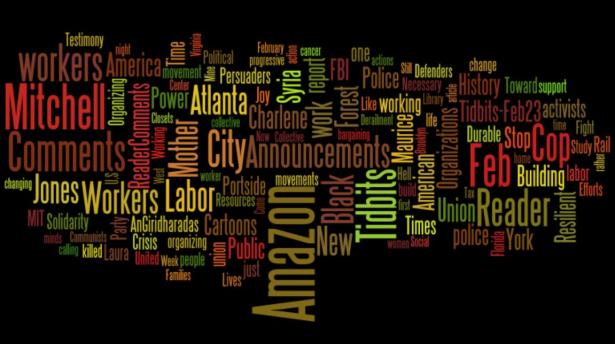 Tidbits - Reader Comments, Resources, Announcements, AND cartoons - Feb 23, 2023,Portside
Take Action:
 
Resources:
Announcements:
Re: Rail Worker Alliance Urges Labor To Back Railroad Nationalization
This is a demand the entire labor movement should take up as their own
Jay Mazur
      =====
The toxic train derailment in Ohio is a product of quite lax regulation of how trains operate for which the highly profitable rail freight folk fervently lobbied. Here David Sirota, Rebecca Burns, and a team from The Lever report on some of what could be done to reduce derailments and on the history of how we got here (if you are not following The Lever, consider doing so). In the comments, via, Portside, rail workers call for nationalization of the industry. Of course part of what needs to change is industry naming these incidents "accidents." These derailments are a result of decisions driven by the desire for profit.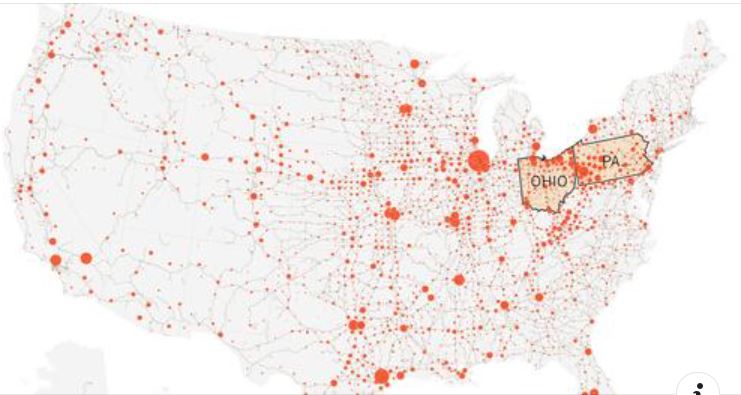 Read New York Times Opinion here
Daniel Millstone
Posted on Portside's Facebook page
Re: Roberto Clemente Book Removed From Florida Public Schools  
DeSantis bans a book.
Trump call for suspension of the Constitution.
Which is more problematic?
Lawrence Rockwood
Posted on Portside's Facebook page
      =====
yup, it is fascism and some librarians are going along with it. Gee, I think that kind of thing on a grander scale happened in the even more deeply fascist nations in the 20th c.
Frank Stricker
      =====
So crazy!
Harold Gilstein
Posted on Portside's Facebook page
      =====
I saw this..it sickens me
Annie M Smith
Posted on Portside's Facebook page
      =====
What a disgrace
Laura Zagarell
Posted on Portside's Facebook page
      =====
I am really uncomfortable with this racism and book banning.
Brad Laird
Posted on Portside's Facebook page
      =====
Uncomfortable? I'm angry as h**l about it! This is a prime example of a fascist government at work...
Laura Snow
Posted on Portside's Facebook page
Re: How Not To Get Hoodwinked About Social Security Going "Bankrupt"
No, Social Security is not going bankrupt. Share with friends.
Dan Jordan
Posted on Portside's Facebook page
Re: State Legislators Can Finally Make Billionaires Pay What They Owe  
Tax all forms of income at the same rates. Made $100,000 in capital gains? Tax them the same as if their salary was $100,000. There's no way a person working minimum wage should be paying a higher percentage in taxes than a millionaire. Close all the tax loopholes!
Robert Laite
Posted on Portside's Facebook page
The blame, re train, falls mainly on this man  --  cartoon by Lalo Alcaraz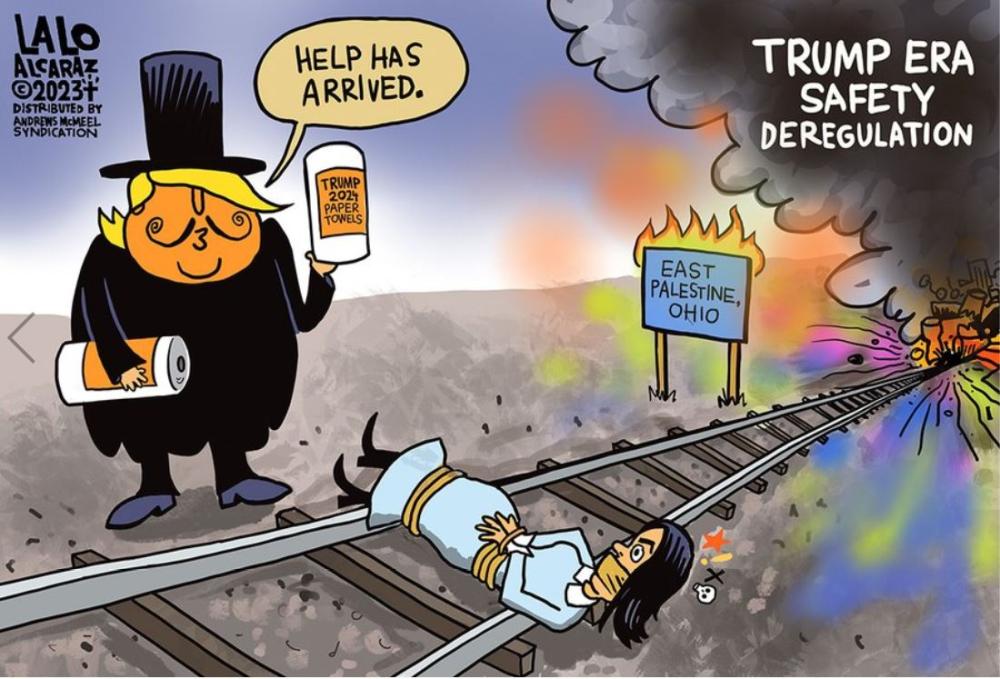 Lalo Alcaraz
February 22, 2023
Pocho
Re: Chemical Desolation in Appalachia  
Socialism for the corporations: they cut costs, and we pick up the bill when the results go off the rails.
Norm Littlejohn
Posted on Portside's Facebook page
      =====
Bipartisan corpo fuckery. I support a corporate death penalty.
Andy Heidt
Posted on Portside's Facebook page
Re: As Turkey Counts Its Dead, a Reckoning Is Still To Come  
Let's hear more about Syria.
Deborah R Kingery
Posted on Portside's Facebook page
      =====
As Syria attempts to recover it's dead, Israel continues to bomb Syria.
see: 
Syria just suffered a devastating earthquake but Israeli bombing does not stop
Israeli attacks on Syria continue even as Syria struggles with the aftermath of the February 6 earthquake, in which over 5,800 were killed.
February 20, 2023 by Peoples Dispatch
Fred Niles
Re: Forensic Study Finds Chilean Poet Pablo Neruda Was Poisoned  
Unconscionable.
Laura Friedman
Posted on Portside's Facebook page
Re: Fears of Renewed FBI Abuse of Power After Informant Infiltrated BLM Protests  
time to send out "when the FBI knocks" fact sheets again. I found it very helpful back in the day
Martha Bragin
Posted on Portside's Facebook page
Re: Who Killed Malcolm X? Family To File $100M Suit v. FBI, CIA, NYPD & Others To Find the Truth  
We've been lied to for decades of course.
Jean Douthwright
Posted on Portside's Facebook page
Thoughts and Prayers ... and Kids  carton by Kevin Necessary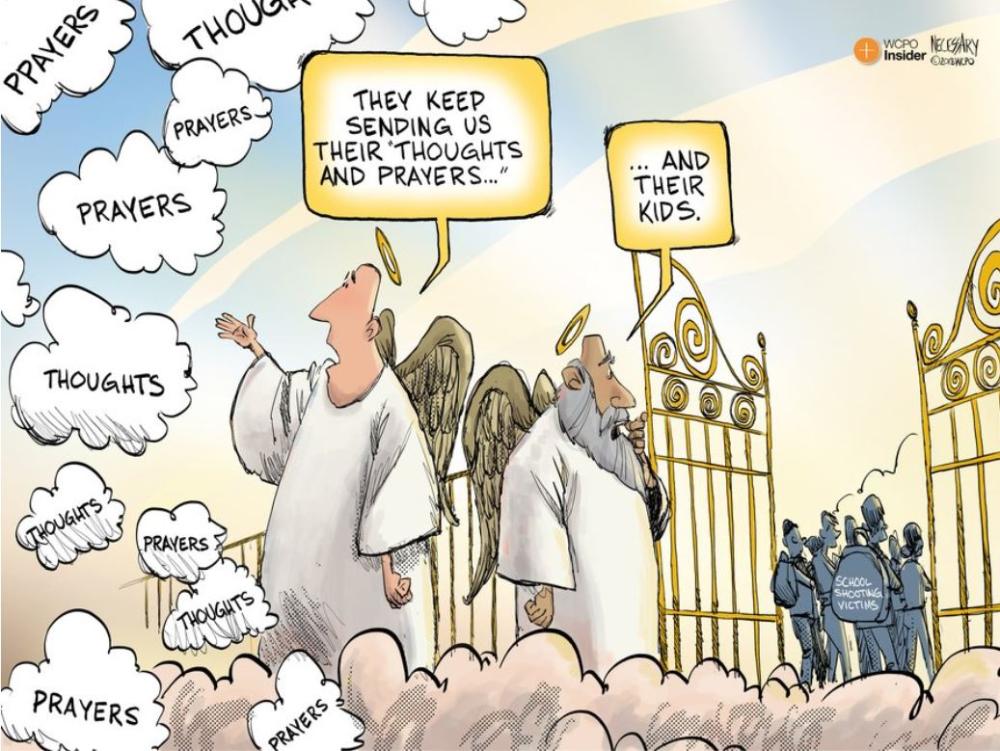 Kevin Necessary
May 18, 2018
WCPO Cincinnati
Re: We Can't Let Antisemitism Be Weaponized To Criminalize Solidarity With Palestine  
he IHRA does not do what this claims (as anyone can see by reading what it actually says, rather than relying on excerpts taken out of context) and the only explanation for these dishonest attacks on it is that in solidarity with anti-Israel activists who sometimes cross the line into antisemitism, the anti-IHRA activists prefer to distort what it actually says in order to protect those of their allies when they engage in anti-Semitic rhetoric. Of course charges of antisemitism aren't always justified, but the IHRA is very careful to establish criteria that would help distinguishing between real and false charges--and that's what these attacks are designed to obscure.
Stan Nadel
I know. He was a dear friend and comrade. I am glad that this piece made portside. What a huge loss for Baltimore.
Nicole Fabricant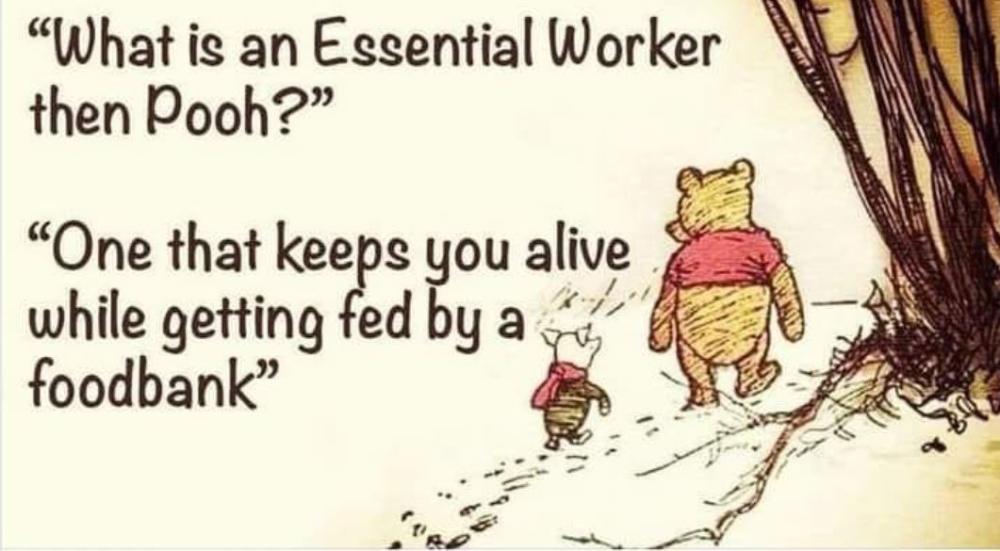 People's Chancellor - Economics For The Many
February 19, 2023
post on Facebook
Re: First Step Towards the Recognition of Breast Cancer as an Occupational Disease in France
(posting on Portside Labor)  
In response to this article, stating that studies have found an increase of 30% in breast cancer in women who work night shifts, I wonder whether the actual cause of that has been tracked down - bc it seems to me that people who work night shifts are going to eat more junk food, more fatty food- more comfort food, while they are working. More junk food and a fattier diet would definitely increase breast cancer risk. Therefore, the increased breast cancer incidence in women who work night shifts could be only a dietary or life style risk, rather than an actual work place cancer. 
If you are aware of any studies which control for diet during the night shift and during the daytime when the women are at home, could you please send me the link.
Robin Esser, Ph.D. Physiology & Membrane Biophysics, Pharmacology, Cardiac Electrophysiology and Neurophysiology
Spy Balloons  --  cartoon by Rob Rogers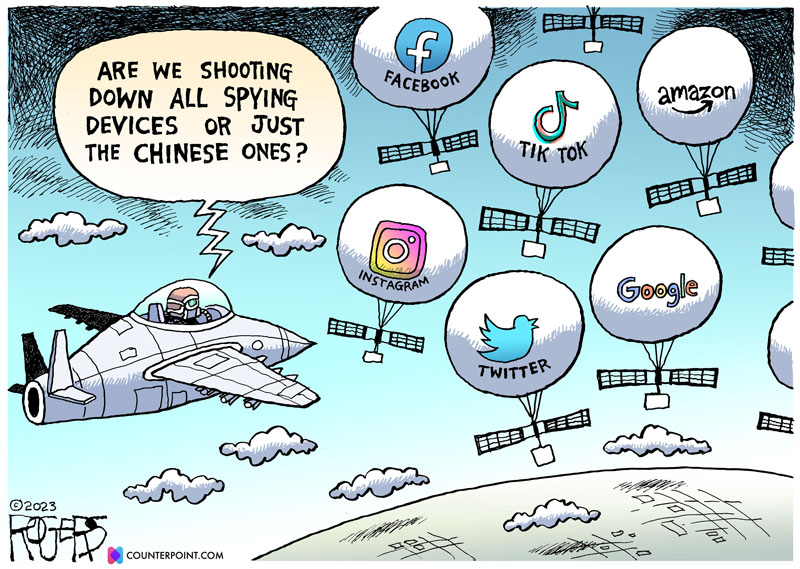 Rob Rogers
February 14, 2023
robrogers.com
Tell Amazon: Come to the Table with Amazon Labor Union!
Amazon workers at the JFK8 fulfillment center on Staten Island made history last year when we voted to form the first-ever union at an Amazon facility in America. It was a great victory, but it was also just the beginning.
Since Amazon Labor Union won that vote, Amazon hasn't just ramped up its union-busting behavior at other warehouses, they've refused to even come to the table and negotiate with the union.
It's time for Amazon to come to the bargaining table. The workers' demands are simple: Better pay, better benefits, and better working conditions. Amazon's choice to spend money union-busting -- firing organizers in other warehouses and flooding workers with anti-union propaganda -- instead of bargaining in good faith goes against the spirit of American labor law.
Send a message to Amazon's Board of Directors: It's time to come to the bargaining table and work out a contract with the Amazon Labor Union.
Amazon is one of the most profitable companies in the world -- and its profits soared during the pandemic. Amazon warehouse worker Poushawn Brown died after Amazon forced her to conduct Covid tests without providing any PPE. Instead of using its wealth to protect the workers who kept it running, Amazon treated the human beings who make it run as disposable.
Tell Amazon: Stop union busting and start bargaining with Amazon Labor Union!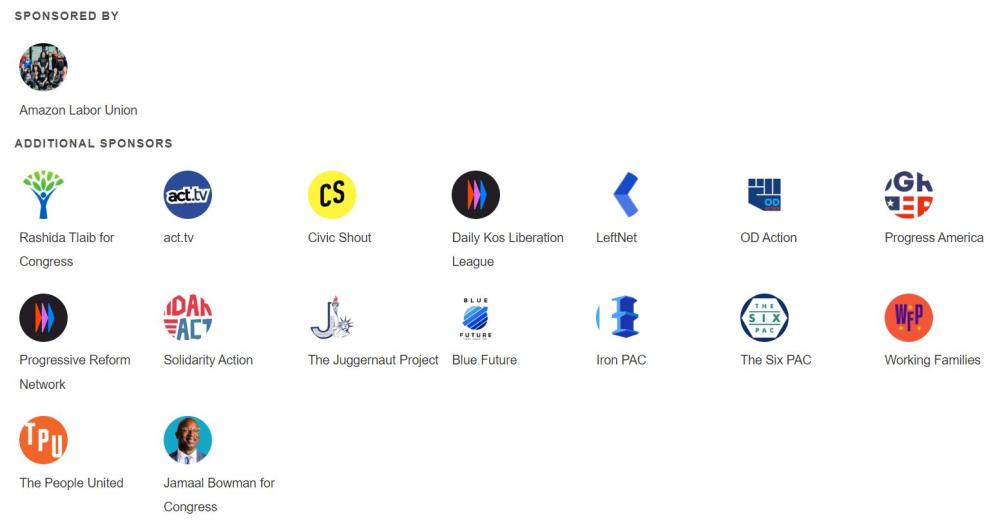 Amazon Labor Union https://www.amazonlaborunion.org/
900 South Ave.
Suite 100
Staten Island, NY 10314
(718) 489-8818
info@amazonlaborunion.org 
Stop Cop City— Poster of the Week (Center for the Study of Political Graphics)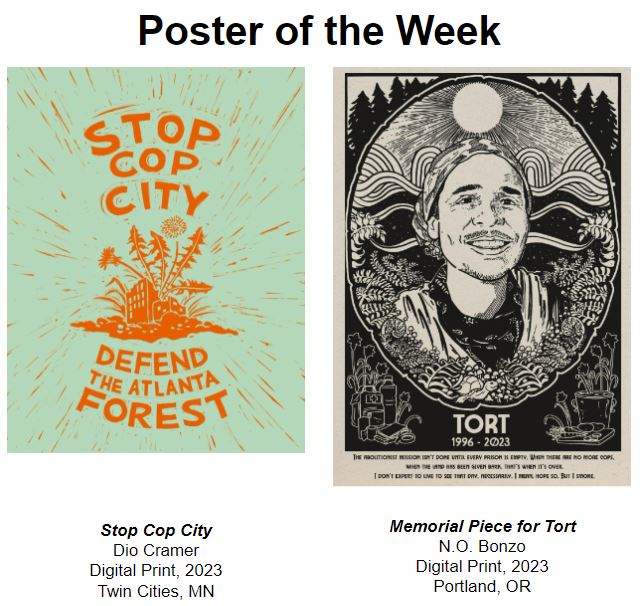 Public outrage over police beatings and murders of unarmed people of color is high. Demands are growing to remove funds from the police and reallocate them to education, youth services, healthcare, and other community-based and non-policing forms of public safety. Yet a $90 million project was just approved to build a military grade training compound for the Atlanta Police Department. Officially named the Atlanta Public Safety Training Center, activists and the media are calling it "Cop City." The police have already killed one protester and arrested at least 18 people. Adding injury to injury, this project will be an environmental disaster.
The plan to build Cop City became public in 2017, the full proposal was published in 2020, and in 2021, Forest Defenders began to occupy Weelaunee Forest to prevent it from being destroyed. On January 18, 2023, 26-year-old Venezuelan activist Manuel "Tortuguita" Paez Terán was killed during a raid of the Stop Cop City encampment. They were shot 13 times. Police are claiming Tort shot first at a state trooper, the Forest Defenders are denied this and claimed they were killed by police crossfire. Those arrested have been charged with domestic terrorism, which is a felony, rather than with trespassing, a misdemeanor, in order to discourage continued protests.
On January 31, 2023, permits were approved to destroy 300 acres of the Weelaunee Forest that surrounds Atlanta. The land was originally stolen from the Mvskoke (Muscogee) in the 1800s and later turned into a prison farm in the early 1900s. Now it serves the local community as a vital natural resource and biodiverse region, making it a home to amphibians and migratory birds. Known for being "a city in a forest," Atlanta relies on the tree canopy of the
Weelaunee Forest to combat climate-change-driven heat waves and floods.
Police brutality is unacceptable. Greedy corporations, cynical politicians, and police continue to destroy natural resources and the lives of the vulnerable.
The Atlanta Forest Defenders are calling for a Week of Solidarity
February 19th - 26th. Find a protest event near you.
The posters used here are both are free digital downloads on JustSeeds.org. Use these graphics in solidarity with the Atlanta Forest Defenders!
Stop Cop City!
References:
Center for the Study of Political Graphics  
3916 Sepulveda Blvd
Suite 103
Culver City, CA 90230
New Report on U.S. Workers' Organizing Efforts and Collective Actions (MIT Institute for Work and Employment Research)
A new report coauthored by MIT Sloan Professor Emeritus Thomas Kochan finds that American workers are taking actions through union organizing, strikes, and other forms of collective action to address their pent-up demand for achieving a stronger voice and representation at work.
A new report finds American workers are taking actions through union organizing, strikes, and other forms of collective action to address their pent-up demand for achieving a stronger voice and representation at work. But their actions are making clear to the American public the obstacles workers face in forming unions under the election procedures provided in current U.S. labor law.
The report, U.S. Workers' Organizing Efforts and Collective Actions: A Review of the Current Landscape, summarizes research evidence on the size of the voice and representation gaps workers are attempting to fill, and provides examples of different strategies workers are using to address the gap.
The report is the first research product of the Worker Empowerment Research Network (WERN), a new interdisciplinary network of labor market researchers. The faculty and doctoral students who authored the report reviewed worker organizing activities over the past decade to explore the wide range of approaches American workers are taking to express their collective voices in their workplaces, companies, and communities. By highlighting the wide range of organizing and collective actions occurring across the country, the researchers hope to lay a foundation for a broad-based, multi-stakeholder set of discussions about what needs to be done to support worker efforts to achieve more equitable, inclusive, productive, and resilient employment relationships.
"This is a teachable moment," says Thomas A. Kochan, Professor Emeritus at the MIT Sloan School of Management and member of the faculty of the MIT Institute for Work and Employment Research (IWER), and one of the lead authors of the new report. "There is such an enormous difference between the intent of labor laws and what workers experience when they try to exercise their rights."
Key findings of the report include:
Despite a decrease in union participation, the level of support for unions is actually higher than in the past.
Workers may be deterred from unionizing by labor laws and employer responses.
In lieu of forming unions, workers have discovered other means of self-advocacy.
US Workers' Organizing Efforts and Collective Actions: A Review of the Current Landscape
MIT Sloan School of Management
100 Main Street
Cambridge, MA 02142
617-253-1000
February 27th Remembering Charlene Mitchell (CCDS Socialist Education Project SEP)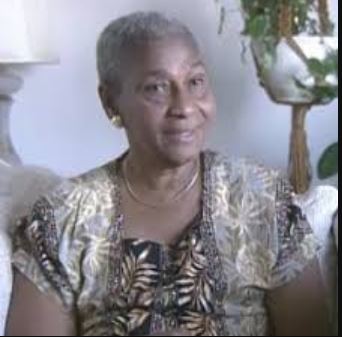 February 27, 2023
9 pm. Eastern, 8 pm Central, 7 pm Mountain, 6 pm Pacific
Black History Month
Remembering Charlene Mitchell and the Struggle Against Racism
Charlene Mitchell, was the first African American women to run for president of the United States in 1968 on the Communist Party ticket, a founder of the Free Angela Davis campaign and the National Alliance Against Racism and Political Repression, a founder of CCDS, a trade unionist, and a lifetime activist in the struggle against racism and class exploitation.
This webinar will examine the life and works of Charlene Mitchell as a window into the historic and contemporary struggles for racial justice and against worker exploitation. It will consist of a video presentation about Charlene Mitchell's life and a tribute by Angela Davis. The video and comments will be followed by a panel discussion led by her comrades followed by questions and comments.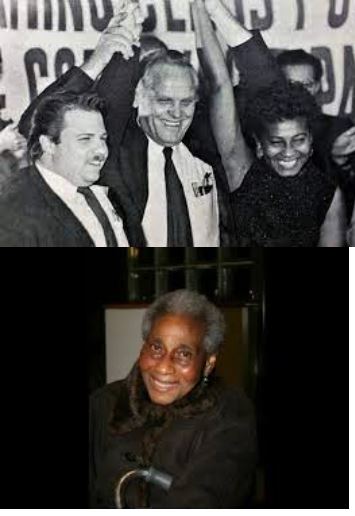 Communists in Closets: Queering the History 1930s - 1990s - A Reading by the Author - Bettina Aptheker - February 28 (Outstanding Life-Boston)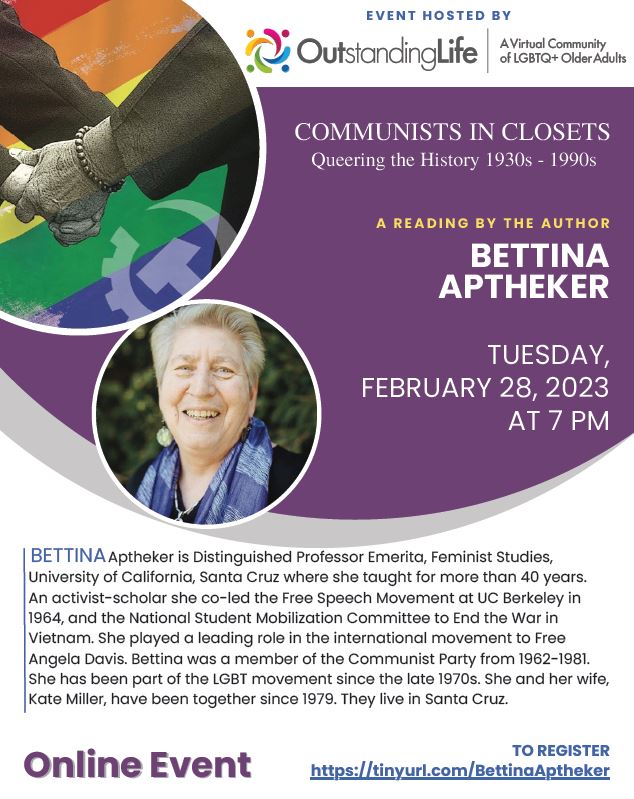 Brooklyn Public Library Presents Anand Giridharadas and Maurice Mitchell - Building Resilient Organizations: Toward Joy and Durable Power in a Time of Crisis - February 28
Anand Giridharadas & Maurice Mitchell Discuss The Persuaders & Building Resilient Organizations, moderated by Dorian Warren
Maurice will be diving into his article "Building Resilient Organizations: Toward Joy and Durable Power in a Time of Crisis," an examination of how we can strengthen our progressive movement by strengthening our organizations.
He'll be joined in conversation by Anand, who wrote The New York Times bestseller The Persuaders. Through interviews with elected officials like Bernie Sanders and Alexandria Ocasio-Cortez, movement leaders, activists, and more, The Persuaders demonstrates how we can win support and change minds about the policies our communities need most.
The Persuaders
The lifeblood of any free society is persuasion: changing other people's minds in order to change things. But America is suffering a crisis of faith in persuasion that is putting its democracy and the planet itself at risk. Americans increasingly write one another off instead of seeking to win one another over. Debates are framed in moralistic terms, with enemies battling the righteous. Movements for justice build barriers to entry, instead of on-ramps. Political parties focus on mobilizing the faithful rather than wooing the skeptical. And leaders who seek to forge coalitions are labeled sellouts.
In The Persuaders, Anand Giridharadas takes us inside these movements and battles, seeking out the dissenters who continue to champion persuasion in an age of polarization. We meet a leader of Black Lives Matter; a trailblazer in the feminist resistance to Trumpism; white parents at a seminar on raising adopted children of color; Bernie Sanders and Alexandria Ocasio-Cortez; a team of door knockers with an uncanny formula for changing minds on immigration; an ex-cult member turned QAnon deprogrammer; and, hovering menacingly offstage, Russian operatives clandestinely stoking Americans' fatalism about one another.
As the book's subjects grapple with how to call out threats and injustices while calling in those who don't agree with them but just might one day, they point a way to healing, and changing, a fracturing country.
Building Resilient Organizations: Toward Joy and Durable Power in a Time of Crisis
Social justice organizations are in the midst of enormous upheaval and change. In his article Building Resilient Organizations: Toward Joy and Durable Power in a Time of Crisis, Maurice Mitchell, National Director of the Working Families Party, offers an assessment of the current dynamics within social justice organizations and pathways forward to realize "...movements that exude joy, build power, and secure critical victories for the masses of working people."
The solutions offered in the essay span four dimensions—structural, ideological, strategic and emotional—and range from suggested practices, policies and structures to how individuals see themselves and relate to each other. 
This article is a call to action, raising the alarm about continuing along our current path and calling on each of us to learn from our mistakes and shift from a focus on problems to a focus on solutions.
The essay was first published in The Forge, Convergence, and Nonprofit Quarterly and has since garnered widespread attention and praise from organizers and activists in progressive social movements. Michelle Goldberg called the essay "keen, insightful" in The New York Times, while MSNBC's Chris Hayes praised it for "wisdom, sense, and vision." Maurice discussed the piece for a feature in The New York Times podcast "First Person."  
Anand Giridharadas is the author of The New York Times bestseller The Persuaders, the international bestseller Winners Take All, The True American, and India Calling. A former foreign correspondent and columnist for The New York Times for more than a decade, he has also written for The New Yorker, The Atlantic, and Time, and is the publisher of the newsletter The.Ink. He is an on-air political analyst for MSNBC. He has received the Radcliffe Fellowship, the Porchlight Business Book of the Year Award, Harvard University's Outstanding Lifetime Achievement Award for Humanism in Culture, and the New York Public Library's Helen Bernstein Book Award for Excellence in Journalism. He lives in Brooklyn, New York. Photo by Michael Lionstar
"Anand Giridharadas shows the way we get real progressive change in America—by refusing to write others off, building more welcoming movements, and rededicating ourselves to the work of changing minds." —Robert B. Reich, best-selling author of The System
Maurice Mitchell is a nationally recognized political strategist, a visionary leader in the Movement for Black Lives, and National Director of the Working Families Party.
Raised by Caribbean working-class parents in NY, Mitchell began organizing as a teenager and never stopped. At Howard University, he organized against police brutality and for divestment from private prisons after police killed a classmate. Mitchell went on to work for several grassroots advocacy groups in his home state and became director of the NY State Civic Engagement Table. 
In the wake of the police murder of Mike Brown, Mitchell relocated to Ferguson and helped build the Movement for Black Lives. He went on to co-found and lead Blackbird, a movement anchor organization that provides strategic support to Movement for Black Lives activists across the country. 
In 2018, Maurice took the helm of the Working Families Party where he is applying his passion and experience to make WFP the political home for a multi-racial working-class movement.  
A progressive scholar, organizer and media personality, Dorian Warren has worked to advance racial, economic and social justice for more than two decades. Like the organizations he leads, Warren is driven by the innate conviction that only social movements – led by the people most affected by racial, economic, gender and social injustice – can change their communities and public policies for the better.
Warren is co-president of Community Change – an organization founded in 1968 by civil rights, labor and community leaders to honor the memory of Robert F. Kennedy's fight to end poverty in America. He is also the co-founder and co-chair of the Economic Security Project, an innovative social impact organization that has already shifted the national conversation around cash, economic power and economic security. And he is also the co-host of the Deep Dive podcast on The Takeaway with Melissa Harris-Perry.
Warren taught for over a decade at the University of Chicago and Columbia University, where he was co-director of the Columbia University Program on Labor Law and Policy. He's the co-author of The Hidden Rules of Race, co-editor of Race and American Political Development, and numerous academic articles. He also worked at MSNBC, where he was a Contributor, fill-in host for "Melissa Harris-Perry" and "Now with Alex Wagner" as well as the Host and co-Executive Producer of "Nerding Out" on MSNBC's digital platform (now Peacock). He was previously a Fellow at the Roosevelt Institute and serves on the boards of Working Partnerships USA, the Leadership Conference on Civil and Human Rights, the National Employment Law Project, The Model Alliance and The Nation magazine. 
As a commentator on public affairs, Warren has appeared regularly on television and radio including NBC Nightly News, ABC, MSNBC, CNN, CNBC, BET, BBC, NPR, Bloomberg, & NY1, among other outlets. He has also written for The Nation, Huffington Post, Newsweek, Salon, Washington Post, New York Times, Medium, Ebony.com, and Boston Review.
We are very excited to have you back at our events and would like to remind you that we are still in the midst of the pandemic. Please be considerate of your fellow guests and stay home if you're feeling unwell. Also, consider wearing a mask when attending indoor BPL Presents events. You'll be doing your part to help keep yourself and everyone healthy and safe.
"Fight Like Hell: The Testimony of Mother Jones West Virginia Premiere - South Charleston, WV - March 23 (United Mine Workers of America)
Event by United Mine Workers of America
The UMWA has been working with Wicked Delicate Films to plan a one-night premiere of their film: Fight Like Hell – The Testimony of Mother Jones.
Fight Like Hell: The Testimony of Mother Jones West Virginia Premiere
March 23, 2023  --  7:00 PM
The Labelle Theatre
313 D Street
South Charleston, WV 25303
FREE
We were never supposed to know her name. She was a poor Irish immigrant who survived famine and war, fire, and plague. Unable to save her husband or their four small children, she dedicated her life to saving working families everywhere. The robber barons called her "the most dangerous woman in America," but workers called her "Mother Jones."
Upton Sinclair said of her, "she had force, she had wit, she had the fire of indignation; she was the walking wrath of god." Mother Jones said of herself "I'm not a humanitarian, I'm a Hellraiser." Most famously, she told her followers to, "pray for the Dead and fight like hell for the living." She educated, agitated, and organized the dispossessed and showed America what it could be.
With the gap between the rich and poor growing wider by the day, the just and democratic society Mother Jones fought for is under attack. Her hour has come again. It is time that her story and the fierce struggles of working families are brought back to life.
Drawn from her autobiography, letters, speeches, and interviews, FIGHT LIKE HELL is as bold and forceful as Mother Jones herself. Adapted from Obie Award-winning Actress Kaiulani Lee's one-woman play "Can't Scare Me," FIGHT LIKE HELL was written and performed by Lee and directed by Emmy-nominated and Peabody Award-winning filmmaker Ian Cheney.
Tickets are completely free! Provided by the United Mine Workers of America. But you need to RSVP to attend!