Tidbits - Aug. 2, 2018 - Reader Comments: 2018 - Trump Country Cracking?, Embracing Democratic Socialism; MLK's Early Socialist Ideas; Household Debt; NATO; Ken Burns' "The Vietnam War"; Billy Joel; Meat Surplus; Resources; Announcements....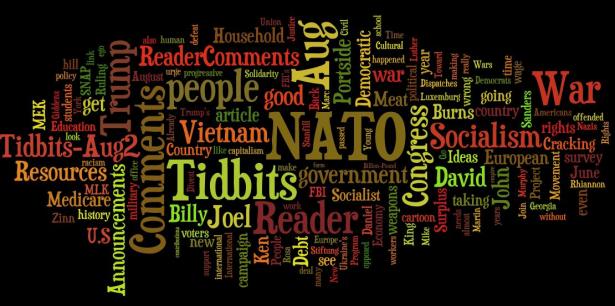 Tidbits - Reader Comments, Resources and Announcements - Aug. 2, 2018,Portside
Resources:
Announcements:
Re: Democratic Socialism Hits the Heartland
 
Congratulations to both of you Vote Blue Kansas and make Kansas and America love again!!!!

Randall Lewis
Posted on Portside's Facebook page
     =====
They are brave, specially her.
I'm a brown non-christian who speaks a language the average monoglot cant understand. You will not find me in usa while minihitler is in charge. Specially not in those regions.
Giovanni Matos
Posted on Portside's Facebook page
     =====
Go Bernie universal health care and legal marijuana
Sandy Shreves
Posted on Portside's Facebook page
     =====
Kansas tried trickle down economics and the state is a disaster. Minnesota raised taxes on the rich and increased minimum wage. Now it is the fourth fastest growing Economy in the country. The three happiest countries are Denmark Norway and Finland. They have National Health Care, responsible gun laws and a living wage. They don't have people die because of a treatable illness, children shot in school or 3% of the population owning 90% of the wealth.
Randy Janssen
Posted on Portside's Facebook page
Re: They Thought This Was Trump Country. Hell No.
 
As Dr. King said, "We still have a choice today: nonviolent coexistence or violent coannihilation."
Karen Bednarek
Keep the Hat  --  cartoon by Mike Stanfill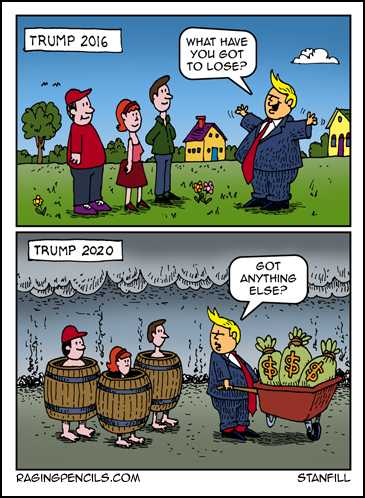 Mike Stanfill
Aug. 2, 2018
Raging Pencils
Re: Clinton Democrats vs Sanders Socialism
 
yes, I am truly afraid the centrists Democrats (not Quite DINO tho' it often Seems so) will split the party ~ truly a shame when we were getting so close to winning Congress in Nov. 
Lois Racz
     =====
Losing strategy it's this approach that will get Trumpty Dumpty re-elected
Rob Prince
Posted on Portside's Facebook page
     =====
This article really lays it out.
Ted Cloak
     =====
This is a splitting article. "Sanders  Socialists' -- alone -- cannot defeat Trump and the Rs. Worse, among supporters of Bernie Sanders, there is hardly agreement on the author's list of "socialist" issues, some of which are foolish. The policy of "coalition" -- not complete unity -- is mandatory. Splitting in the face of fascism -- God will be offended. And when offended, the just and the unjust are slaughtered alike.
John Case
Re: The Young MLK Already Had Socialist Ideas
 
Another much-overlooked belief of MLK was his opposition to militarism which he expressed in his speech against the War in Vietnam. "I will study war no more."
Martin Luther King, "Why I Am Opposed to the War in Vietnam"
Speech by Martin Luther King, Jr. against the "triple evils of racism, economic exploitation, and militarism."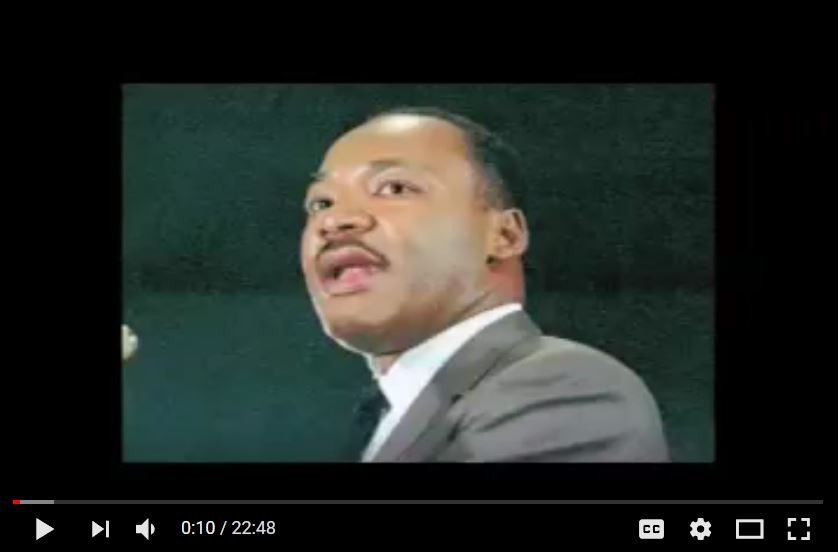 Listen here
John McPhaul
Posted on Portside's Facebook page
     =====
An urge toward European style socialism is an urge to see everybody taken care of. What's wrong with that? There are details to deal with to make it workable, but there's absolutely nothing wrong with the urge.
William Leffingwell
Posted on Portside's Facebook page
     =====
Socialism and communism look very good on paper. When you read the original works of these , Royalty , Dictator and Capitalism all look really good on paper. But,, what they fail to work out is human ego. Human ego is the downfall of every type of governing body. The closest is the government that limits all leaders/representatives time in office. Being allowed to be voted in continuously without year limits allows for corruption and poor leadership due to ego. Ego needs to be controlled in any government.
Kristy Westfall
Posted on Portside's Facebook page
     =====
The author seems unable or unwilling to cross the "Red" line. Like too many socialists, past and current, she sees the end goal as "the redistribution of wealth and power". Socialism requires the elimination of all private, for profit, ownership of finance, manufacturing, services and culture. If the cancer isn't completely destroyed, it will continue to grow.
John Gallo
Re: Does the Arc of the Moral Universe Really Bend Toward Justice?
 
Just read the inscription on Marx's grave- surprised he was not mentioned.
David Eberhardt
Back Alley Detour  --  cartoon by Marc Murphy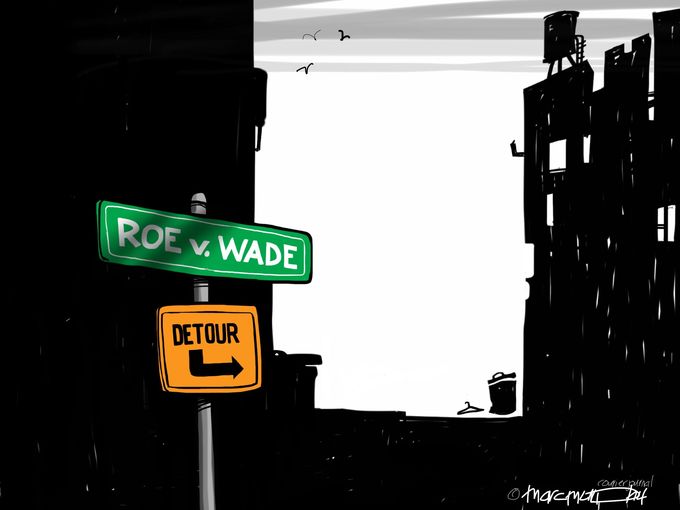 Marc Murphy
July 3, 2018
Louisville Courier-Journal
    Even the Wall Street Journal concedes that Medicare Advantage plans are not a good deal for the American people.
Would that were so. Unfortunately, the link is to a letter to the editor, not an editorial. It does not represent the views of the WSJ.
Kevin Lindemann
     =====
Medicare is a lifesaver and still works. But needs some fine tuning. You can help in making it better.
Luis Rios Perez
Posted on Portside's Facebook page
Re: Household Debt: How the Bottom Half Bolsters the Booming U.S. Economy
 
4.1% increase in GDP is a big deal. Here, via Portside, Jonathan Spicer shows how it has been achieved. We at the income bottom are going deeper into debt and exhausting our "savings." We will soon be unable to repay the "debts" we've been forced to sign up for. The class war on the rest of us by the rich results in wealth transfer to the rich and their corporations. Tax them and redistribute wealth and income.
Daniel Millstone
Posted on Portside's Facebook page
Re: Oregon Labor Group to Refund Worker's Union Dues, a First Since Supreme Court Ruling
(posting on Portside Labor)
Let's see how quickly she does the honorable thing and refuses any wage increases and benefit increases negotiated by SEIU. What a scab!
The Skeptical Cynic
Re: It's Time for NATO to Go the Way of the Warsaw Pact
 
Should have happened in 1991. Better late than never.
Alan Hart
Posted on Portside's Facebook page
     =====
NATO is exposed now for what it always was - a vehicle for imperialist aggression and for US domination of Europe. It's very important to the ruling class however, look how quickly Trump's recent ignorant bluster was walked back! Of course Russia would be happy to see it go but also Germany since they dominate the parallel European "Defense" force and would be happy for anything that diminishes US influence in Europe. The big rulers are not about to easily let that happen though.
Gary Bono
Posted on Portside's Facebook page
     =====
Mostly spot on, but claiming that Georgia and Ukraine have been invited to joint NATO is misleading. As Wikipedia notes:
In May 2013, Georgian Prime Minister Bidzina Ivanishvili stated that his goal was to get a Membership Action Plan for his country from NATO in 2014.[28] However, in June 2014 NATO officials announced that Georgia would not yet be invited to join the MAP process, but that NATO would implement a "substantive package" of cooperation measures with Georgia.[29]  
In December 2017, NATO Secretary General Jens Stoltenberg affirmed the support for Georgia's "eventual NATO membership".[30]
In March 2016, President of the European Commission Jean-Claude Juncker stated that it would take at least 20-25 years for Ukraine to join the EU and NATO.[71] On 8 June 2017, Ukraine's Verkhovna Rada passed a law making integration with NATO a foreign policy priority.[72]  In July 2017 Poroshenko announced that he would seek the opening of negotiations on a Membership Action Plan with NATO.[73]
On the 10th of March 2018, NATO added Ukraine in the list of NATO aspiring members (others including Bosnia and Herzegovina, Georgia and the Former Yugoslav Republic of Macedonia). Several months later, in late June, Ukraine's Verkhovna Rada passed a National Security bill: the bill defines the principles of state policy on national security and defence as well as focusing on Ukraine's integration into the European security, economic and legal system; improvement in mutual relations with other states and eventual membership in EU and NATO.
Stan Nadel
     =====
Informative article, but what is missing is any mention that whatever is wrong with NATO -- and as the author writes, there is plenty wrong -- it won't be fixed by Trump. Much the same could be said about the European Union.
What Trump really dislikes about Western European countries is what he dislikes about the U.S. -- constitutions, democratic institutions and rights, an independent media, progressive, egalitarian, and inclusive traditions, and citizen activism.
Sam Webb
Posted on Portside's Facebook page
Re: Why Trump's Hawks Back the MEK Terrorist Cult - Dispatches from the Cultural Wars
(posting in Dispatches from the Cultural Wars)
Thanks for posting a link to the NY Review of Books article on US hawks supporting the MEK.
This isn't new. Former attorney general John Ashcroft was another MEK supporter--and yet in the early 2000s his Justice Department kept four Iranian brothers in detention as "terrorists" because two of them once attended a rally sponsored by an organization linked to MEK. There is apparently no limit to rightwing hypocrisy.
Here's an article on the case from 2004; the brothers were finally released a year later.
Iranian Brothers Cleared, Still Jailed
David Wilson
Re: AGFE Wins Ruling That Voids DOE Imposed 'Contract' 
(posting on Portside Labor)
Expect more of this from Trump's government officials. Always in favor of employers and more curtailing of workers rights. Three states already lowered the wage minimum taking advantage of the new inclination in government.
Aida Rivera
Posted on Portside's Facebook page
     =====
Republican campaign to strip government workers of their rights.
Philip Specht
Posted on Portside's Facebook page
     =====
The war against unions. Making America great again by gutting employee rights and protections.
Miguel Tamargo
Posted on Portside's Facebook page
Re: Ken Burns' "The Vietnam War" Was Nominated For An Emmy, Does It Deserve It?
(posting on Portside Culture)
This guy hates America. I'm not even American and I can't listen to his crap.
Daniel Dawe
Posted on Portside's Facebook page
     =====
Your ignorance is appalling, for one Americans are people from all the Americas and that includes Argentina, Brazil, Canada and about 50 more nations, secondly, if you can't understand what your government did in Vietnam to a people that had fought 800 years against the Chinese and defeated them, about 140 years against the French who were also defeated and then against the US for about 15 more than you are a human aberration. All the Vietnamese wanted to do was govern their country and live in peace and the US murdered millions and poisoned their land with dioxin and Agent Orange. Get a life.
If you are not a US citizen and still somehow backed that criminal war that makes your position even more disgusting, the US is an empire, and never, in all of human history, has there ever been a good empire.
Roberto Buxeda
Posted on Portside's Facebook page
Re: Interview: 'White People Are So Fragile, Bless 'Em' … Meet Rhiannon Giddens, Banjo Warrior
 
She's a brilliant person - well worth a listen!
Ed Griffin
Posted on Portside's Facebook page
     =====
So not only are all white people racist (because they are, we're told, "privileged") but if they disagree with that presumption, they are also all fragile. What is lost in this accusatory logic is the individual choice to not accept racism, that a good amount of what is termed "privilege" is actually rights that black and other minorities are denied (and even sometimes whites), that rights are not privileges, and that racism is institutional, sort of like capitalism itself. How many people in the nation have a say over capitalism? Why then, by the same logic, don't we just declare that all workers are capitalists, benefiting from capitalism (even if they don't)? And if they disagree, label them as fragile. Sitting Bull didn't say we die defending our privileges. He said rights.
Dale Jacobson
Posted on Portside's Facebook page
Billy Joel Doesn't Know Why More People Aren't Cracking Nazi Skulls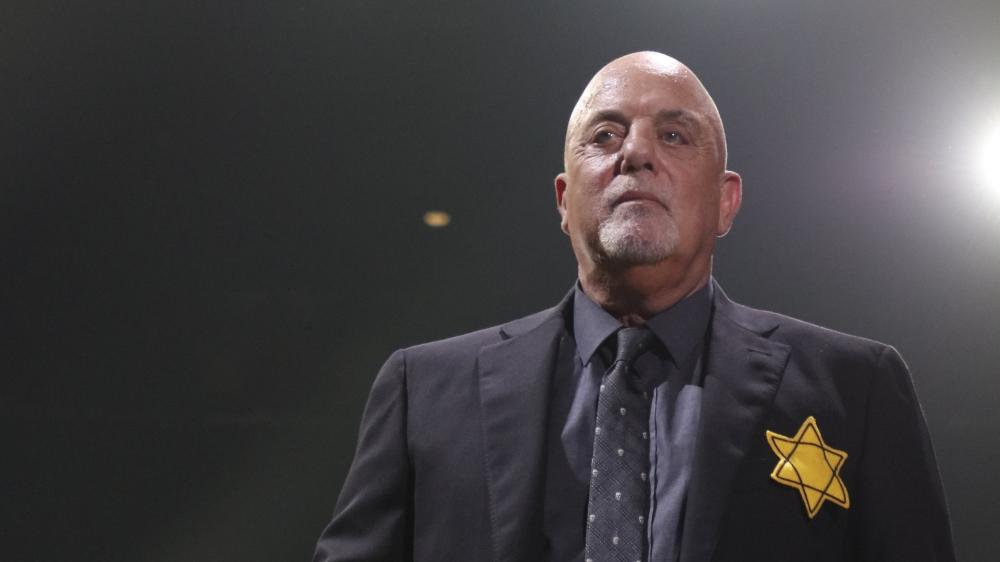 "Those creeps are going to march through the streets of my country?" he asked David Marchese.
"Uh-uh."
By Alex Robert Ross
July 23, 2018
Noisey
Billy Joel doesn't usually discuss politics. In the past, he's pointed to the fact that people don't want to hear a wealthy entertainer sounding off about the economy, and so he's mostly continued with his Madison Square Garden residency without delving into the putrid waters of contemporary political discourse. But Donald Trump has made that sort of surface neutrality a challenge. Last year, after Trump favorably compared Nazis to people who actively dislike Nazis, Joel wore a Star of David on stage at MSG; in an interview with Vulture's David Marchese, published this morning, Joel explained that decision:
    Wearing the Star of David wasn't about politics. To me, what happened in Charlottesville was like war. When Trump said there were good people on both sides—there are no good Nazis. There are no good Ku Klux Klan people. Don't equivocate that shit. I think about my old man: Most of his family was murdered in Auschwitz. He was able to get out but then got drafted and went in the U.S. Army. He risked his life in Europe to defeat Nazism. A lot of men from his generation did the same thing. So when those guys see punks walking around with swastikas, how do they keep from taking a baseball bat and bashing those crypto-Nazis over the head? Those creeps are going to march through the streets of my country? Uh-uh. I was personally offended. That's why I wore that yellow star. I had to do something, and I didn't think speaking about it was going to be as impactful.
Read full story here.
Re: The US Has a 2.5 Billion-Pound Surplus of Meat. Let's Try to Visualize That
 
Guess what all that meat has to preserve it? You right! Preservatives that make you sick and kill you!
Jorge Vila
Posted on Portside's Facebook page
     =====
Still thinking about all the implications of this appalling excess.
Sarah Grey
Posted on Portside's Facebook page
     =====
And ground beef is still 4/lb. what happened to supply and demand?
Roger Ellis
Posted on Portside's Facebook page
     =====
how tragic a lot of that surplus meat & cheese can't go to the Yemeni people, presently facing starvation because of the murderous policies of the Saudis, who are being assisted by the U.S. in closing a main port of entry with horrific bombing.  history will not forgive.
Kathy Lipscomb
Survey: Nearly Two-Thirds Of Americans Oppose Cuts To Snap Program
 
    A majority of registered voters oppose recent efforts to scale back Supplemental Nutrition Assistance Program (SNAP) food benefits and believe the government should be doing more to meet the needs of people facing food insecurity and other challenges, according to a new survey commissioned by the Johns Hopkins Bloomberg School of Public Health's Center for a Livable Future (CLF).
    The survey, conducted by Greenberg Quinlan Rosner Research from June 5 to June 12, explores voter attitudes on several key farm bill issues, including conservation programs designed to protect U.S. land, water and food supply. The farm bill, when passed, will replace the Farm Act of 2014, which expires this year. In addition to support for SNAP, a majority of survey respondents would like to see increased environmental regulations for the agricultural industry. The nationwide survey conducted by phone included 1,005 registered voters.
    Among survey respondents, almost two-thirds (61 percent) said that they were opposed to reducing funding for SNAP, more commonly known as Food Stamps. Among those opposed, over 73 percent said that they were "strongly opposed" to cuts. Registered voters are more divided on whether to cap the number of SNAP recipients in a single household.
    Read full story here.
Mark Bittman
A - Z Guide to Divest Congress from War!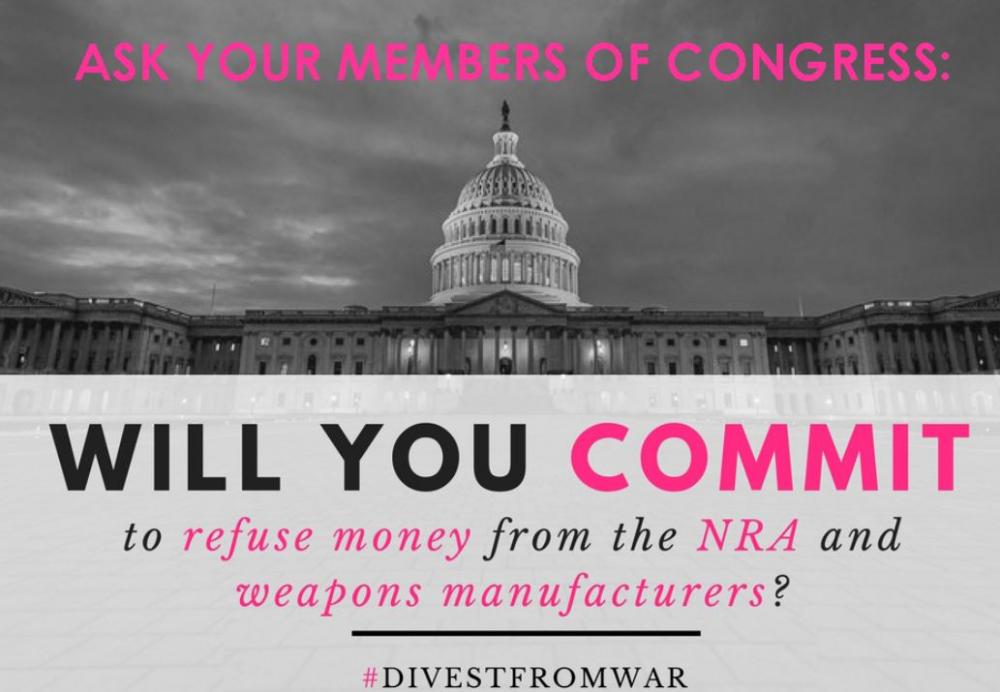 Congress is going home for the month of August, so let's get to work! Join CODEPINK and our local leaders to hold Congress accountable for taking money from the war machine. Check out our new toolkit to get Congress to Divest from War!
Before you get started organizing locally, send a quick email to your representative and senator now! 
Tell them to stop taking campaign contributions from weapons manufacturers and the NRA.
From backlash on diplomatic talks to advancing more weapons sales around the world, the haze of militarism and the crippling grip of the war machine on our lives has been front and center lately. But we can take action. Let's get our members of Congress to commit to stop taking campaign contributions from weapons manufacturers.
We made it easy for you. How to schedule a meeting? Materials? Talking Points? Just download and go! Plus, as always, you can send a quick email to divest@codepink.org, and we'll be here to provide support.
The revolving door between military contractors and Capitol Hill has long been dizzying, and it's only getting worse. We spend more than any other country on weapons and war, even though we don't need it. And we produce so much military excess that equipment is given to police (and university police) for free. It's time for Congress to say no to weapons manufacturers and commit to representing people, not profits.
Join us this August, and let's move Congress!
Toward a world without weapons,
Email: info@codepink.org
Why We Should Teach About the FBI's War on the Civil Rights Movement
 
August 1, 2018
Zinn Education Project
Referring to the FBI, President Donald Trump tweeted on July 21, "Inconceivable that the government would break into a lawyer's office (early in the morning) ---- almost unheard of."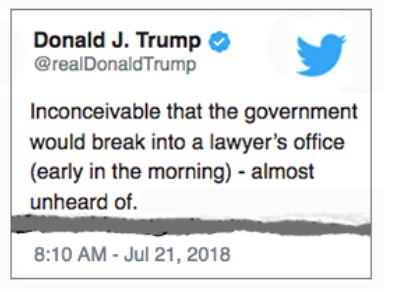 There is actually a long history of FBI raids and secret surveillance ---- particularly of progressive groups. However, it is true that they are "almost unheard of" ---- in textbooks. It is time to make sure that students learn about surveillance efforts such as COINTELPRO. Why? So that students are not duped by Trump's 
mis-information campaign, and more importantly, so that students can be alert to threats to progressive groups today. High school teacher Ursula Wolfe-Rocca has her students examine FBI documents to learn the scope of the FBI's campaign to spy on, infiltrate, discredit, and disrupt all corners of the Black Freedom Movement.
Please read and share Ursula's article and lesson on teaching about COINTELPRO. Consider making a donation to the Zinn Education Project so that we can bring this essential history to many more classrooms in the new school year.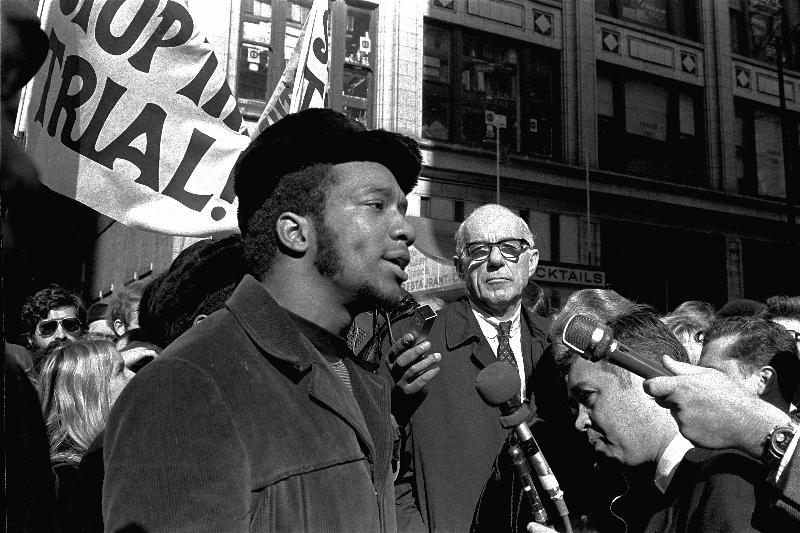 Zinn Education Project
COORDINATED BY: Rethinking Schools
PO BOX 73038
WASHINGTON, D.C. 20056 
202-588-7205 
Rethinking International Solidarity - New York - August 15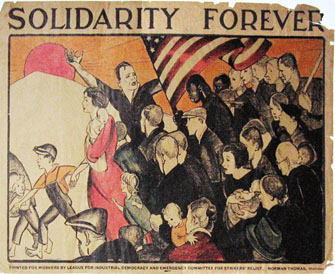 Join us on August 15, together with prominent activists from across North America and Europe, to discuss how international political solidarity can defeat right-wing nationalism, and how we can work together to build a shared socialist vision for the 21st century.
At this event we will bid farewell to RLS-NYC co-directors Stefanie Ehmsen and Albert Scharenberg, whose time as heads of office has come to a close, and welcome incoming director Andreas Günther.
PROGRAM
5:00-5:30pm – Welcome and coffee
5:30-7:00pm – How can we practice international political solidarity to counter the rise of right-wing nationalists intent on undermining democracy? How can we link this defensive struggle to a transformative vision for socialism in the 21st century?
7:00-7:15pm – Coffee break
7:15-8:00pm – What is the role of the Rosa Luxemburg Stiftung in the international political arena, and what can it do to support and strengthen collaborations on the pluralist left?
8:00-10:00pm – Reception
When: Wednesday, August 15 – 5:00-10:00pm
Where: New York Academy of Medicine, 1216 5th Ave. (corner of Central Park East and 103rd St.)
RSVP: ethan.earle@rosalux.org
Download flyer here.
Rosa Luxemburg Stiftung - New York Office  
275 Madison Avenue, Suite 2114
New York, NY 10016