Tidbits - July 15, 2021 - Reader Comments: With Minimum Wage Can't Afford Rent; US Blockade of Cuba Sparks Protests; Recovering Racist History; Climate Change on Lake Michigan; Socialism No Longer Dirty Word; Lots (and lots) of Announcements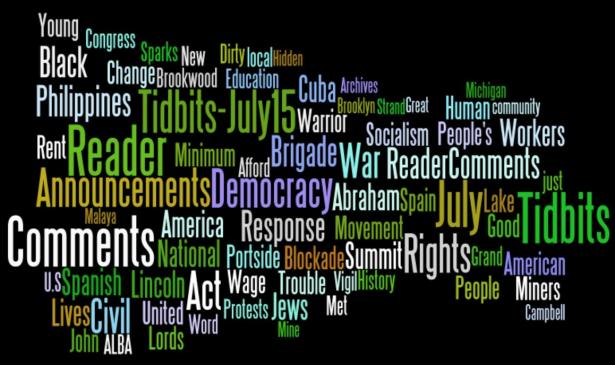 Tidbits - Reader Comments, Announcements, AND cartoons - July 15, 2021,Portside
Announcements:
Re: People Working A Minimum Wage Job Can't Afford Rent Anywhere In The U.S.
 
At local minimum wage rates, a worker would have to put in 79 hours a week, nearly two full-time jobs, to afford a modest one-bedroom rental, a report finds.

Jose Luis Medina
Posted on Portside's Facebook page
      =====
Yet the last Congress voted tax cuts for the 1%: that's called class warfare.
Blanca Vazquez
Posted on Portside's Facebook page
Re: The Hidden Hand of the US Blockade Sparks Cuba Protests
 
Thanks for this.  Over here in Canada, our local newspaper, for example the Toronto Star recently repeated on July 12/2021 the story put out by the Miami Herald which frankly was off the mark and misleading in content.  Some people just don't get it and fail to understand the continuing criminal actions of the American Government.  Biden needs to discover his backbone and as a so-called Catholic should remember Christ's words:  LOVE THEY NEIGBOUR AS THYSELF."
Joe Grogan/Bolton, Ontario
      =====
Very interesting article from another perspective.
Thanks
Alvin Jackson
Whitewashed History  --  cartoon by Rob Rogers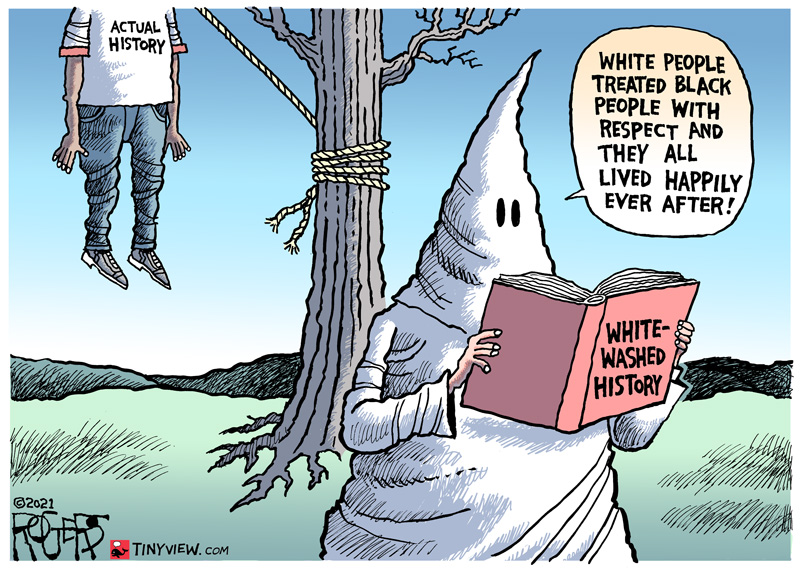 Rob Rogers
July 13, 2021
robrogers.com
Re: Why Congress Is Finally Starting to Claw Back its War Powers from the President
 
Congress loved resolutions of force because it let them off the hook politically so if things went bad they could blame the sitting president and not themselves.
John Slade
Posted on Portside's Facebook page
Oppressive Integrity  --  cartoon by Clay Jones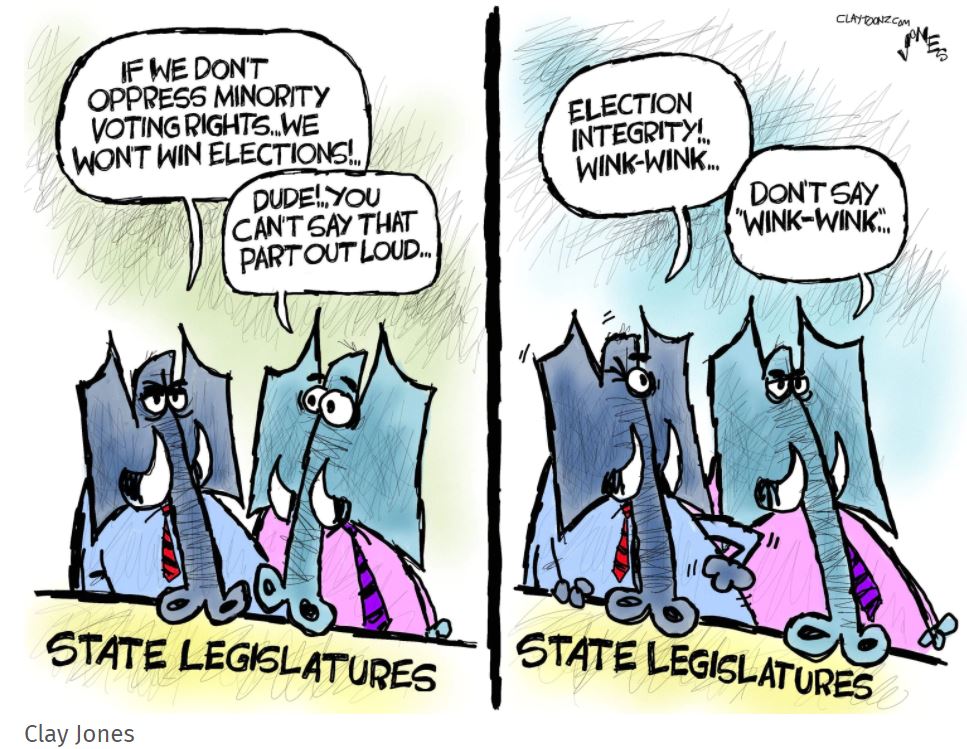 Clay Jones
March 12, 2021
Santa Fe Reporter
Re: A Battle Between a Great City and a Great Lake
 
A cautionary tale.  Talks about Chicago, but I imagine the same is true for the city just north of it and it's high rises on the lake.  The time to get out is sooner than later, me thinks.  
P.S. I noted some problem in the writing in that there are a number of paragraphs repeated, but then again maybe repetition is what's called for in this instance!
Maureen McCue
Re: The Battle for Mount Rushmore: 'It Should Be Turned Into Something Like the Holocaust Museum'
 
Right (and see: Remembrance of embarrassing things past: A president, a statue and history
Judith Mahoney Pasternak
Re: 'Socialism' Isn't a Dirty Word Anymore
 
If you think positively of capitalism, it's only that you don't yet realize how severely you've been screwed by it.
Eleanor Roosevelt
Posted on Portside's Facebook page
      =====
Heath care for my family, a living wage. Politicians going to jail.
Sounds like a pretty good world to me.
Todd Allen
Posted on Portside's Facebook page
Re: Is There A Hidden Quantum Reality Underlying What We Observe?
 
Readers should check out Lee Smolin's book "Einstein's Unfinished Revolution" on this subject. The answer to deterministic quantum reality may be in deep instantaneous connection.
David Schwartzman
Re: Who Gets To Be a Critic? I Never Believed I Could Be One. That's The Problem.
(posting on Portside Culture)
 
Who gets to be a critic? That establishment, fully vetted white males number critics as most, this is no surprise. Criticism is often, if not usually, just a form of last ditch ruling class censorship and works pretty well with its intended audience. My advice is to ignore the culture critics and make your own judgements, just make sure your own judgments aren't based on ignorance and prejudice just the same as most official 'critics'. Keep in mind official critical reaction to the French Impressionists when they first appeared
By the way, whoever is picking the poetry selections to be included at the end of many of these posts is doing a hell of a good job, thanks and  all the best, 
Mike Liston
People's Response Act Teach-In - Friday, July 16 (Civil Rights Corps, Movement for Black Lives, Black Lives Matter Global Network, and Essie Justice Group)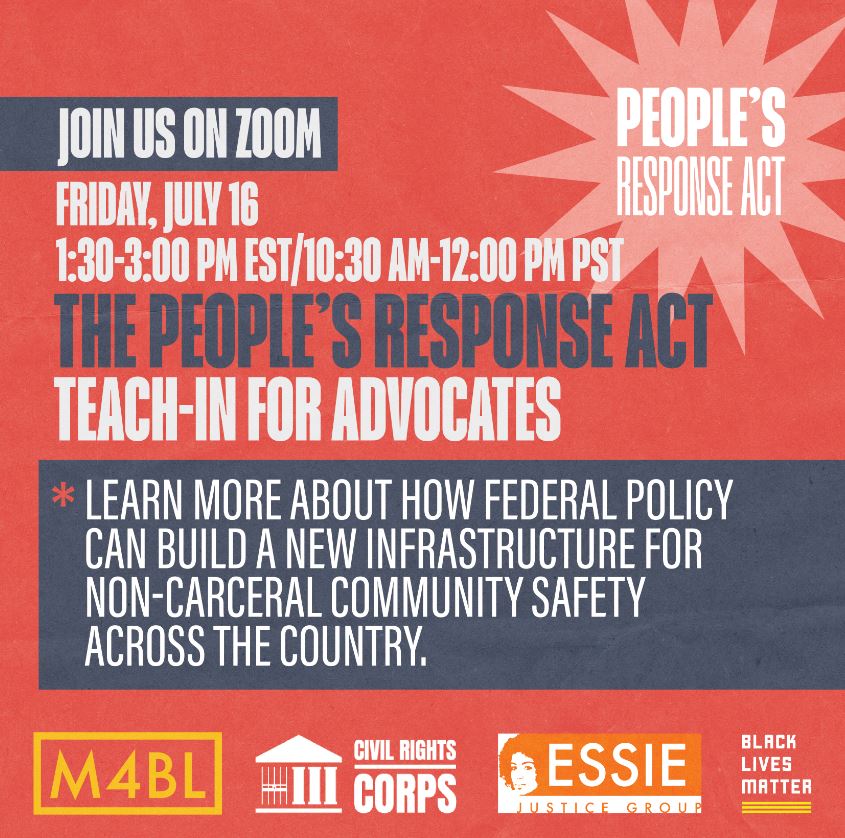 Civil Rights Corps, Movement for Black Lives, Black Lives Matter Global Network, and Essie Justice Group are hosting a series of teach-ins about The People's Response Act. The teach-ins will kickoff on Friday, July 16 from 1:30-3 PM ET.
The teach-ins are an exciting opportunity to learn more about how The People's Response Act will build up the infrastructure for non-carceral community safety across the country. Hear directly from advocates, artists, organizers, academics, and practitioners about how this bill would transform the safety landscape, expand federal funding for grassroots organizations, and save lives.
Representative Cori Bush (D-Mo), along with Congresswomen Ayanna Pressley (MA-07), Jan Schakowsky (IL-06), Pramila Jayapal (WA-07) introduced The People's Response Act, federal legislation that provides vital investments in community and public health-centered approaches to keeping Black people safe in America. It establishes a new federal division within the Department of Health and Human Services to oversee this division. The Movement for Black Lives announced support for the bill, which catalyzes decades of organizing efforts in policy while incentivizing states and local governments to invest in alternatives to policing and incarceration.
Good Trouble Vigil for Democracy - Brooklyn - July 17 (New York Communities for Change)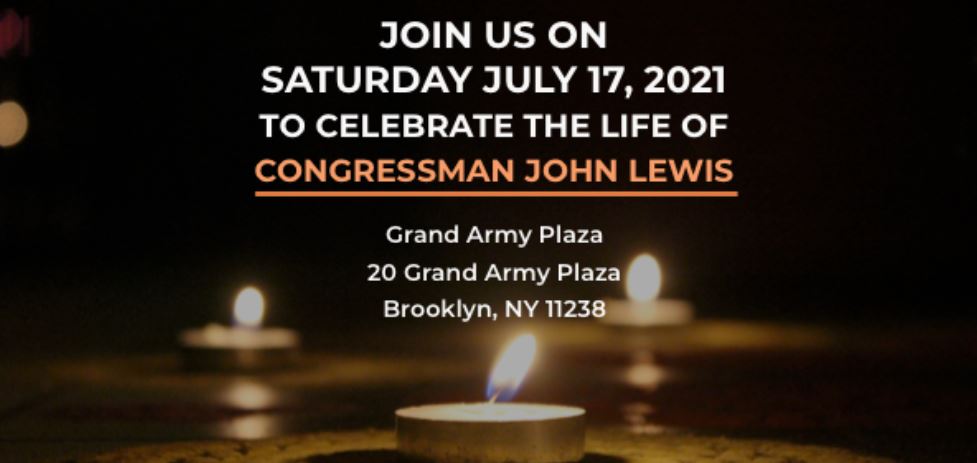 This Saturday, July 17th is the one-year anniversary of Congressman John Lewis' death. He spent his life fighting for civil and voting rights.
In his remembrance, we are teaming up with our partners at the Brooklyn NAACP, Common Cause NY, Indivisible Nation BK, and NYS Senator Zellnor Myrie (Elections chair) to hold a Good Trouble Vigil for Democracy. Come hear from faith leaders, elected officials, and advocates as we honor John Lewis and fight for a better democracy, including the passage of the For the People Act. Hope you can join us!
"Good Trouble Vigil for Democracy"
Saturday, 5:30pm
Grand Army Plaza
20 Grand Army Plaza
Brooklyn, NY 11238
RSVP https://www.mobilize.us/democracyvigils/event/400521/
With anti-voter laws being passed all over America, the U.S. Supreme Court's recent ruling making it harder to protect the right to vote, and Congressional districts being redrawn this fall, we must honor John Lewis' lifetime work by continuing to fight against voter suppression and for a stronger democracy.
Join us in Brooklyn on Saturday as we carry on his legacy by hosting a candlelight vigil (one of many nationwide), and ask Congress to strengthen and protect our democracy by passing the For the People Act and the John Lewis Voting Rights Advancement Act.
Please join us if you can! RSVP here.
Young Lords book presentation with author Johanna Fernández - July 20 (Vito Marcantonio Forum)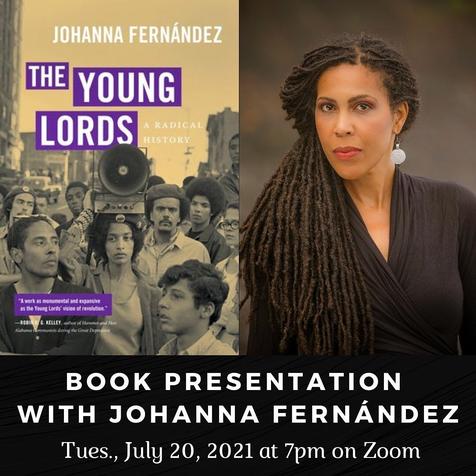 Tuesday, July 20th, 2021 at 7PM. 
Join Zoom Meeting
https://tinyurl.com/ecntdphx
Meeting ID: 498 894 2006
Passcode: MarcLives
Free event but you must register by sending an email to VitoMarcantonioForum@gmail.com or by hitting REGISTER below  VitoMarcantonioForum@gmail.com
Against the backdrop of America's escalating urban rebellions in the 1960s, an unexpected cohort of New York radicals unleashed a series of urban guerrilla actions against the city's racist policies and contempt for the poor. Their dramatic flair, uncompromising vision, and skillful ability to link local problems to international crises riveted the media, alarmed New York's political class, and challenged nationwide perceptions of civil rights and black power protest. The group called itself the Young Lords.
Utilizing oral histories, archival records, and an enormous cache of police records released only after a decade-long Freedom of Information Law request and subsequent court battle, Johanna Fernández has written the definitive account of the Young Lords, from their roots as a street gang to their rise and fall as a political organization. 
Vito Marcantonio Forum
381 2nd Street
Brooklyn, New York 11215
VitoMarcantonioForum@gmail.com
Organizing in the South - July 21 (Grand Strand Together)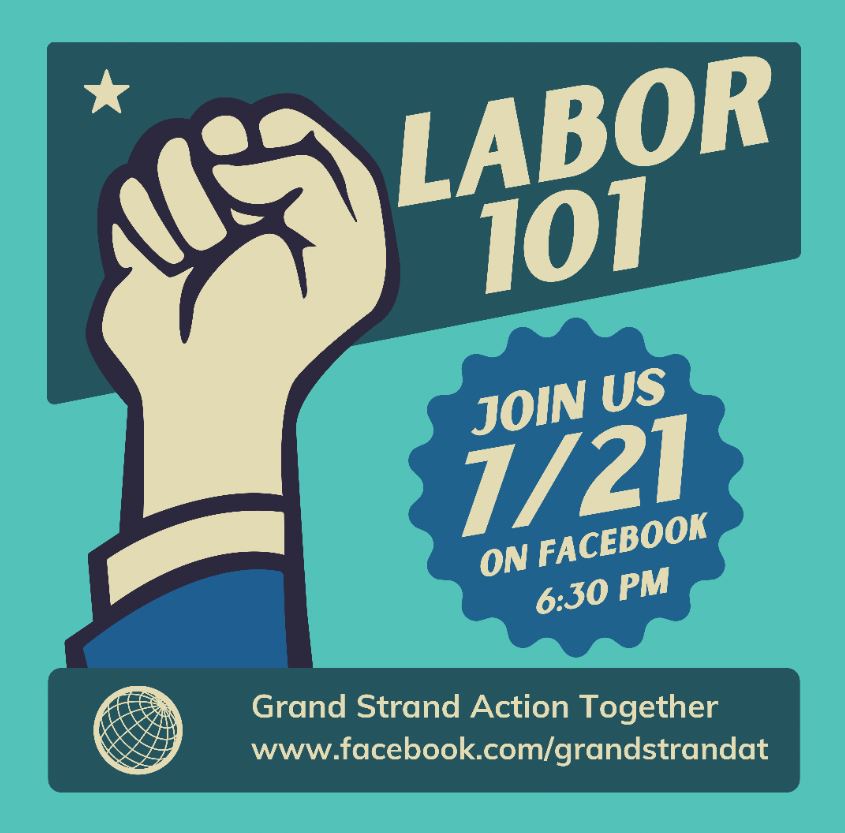 On Wednesday, July 21st, join Ashlyn as she (virtually) sits down with UFCW Union Representative Kayla Mock to talk the basics of labor organizing, how to do it in southern states, the PRO act, and "right to work" states. Make sure you RSVP for this event! 
If you didn't catch our last livestream, we discussed infrastructure and the "Green New Deal" with Dr. Pamela Martin and former Congressional candidate Mal Hyman, and you can watch the replay here. 
Grand Strand Action Together is a nonprofit community organization devoted to education, outreach, and advocacy.
As a collective, we aim to promote discussion of common sense solutions, which are rooted in our shared interests of progress and equity for the future.  We are dedicated to service, education, and advocacy, we seek to address issues affecting our local community.
To RSVP to our upcoming events please visit our Facebook page.
Grand  Strand Together
South Carolina
Salud y Shalom: American Jews in the Spanish Civil War - July 25 (Abraham Lincoln Brigade Archives (ALBA) and The Sousa Mendes Foundation)
 

ALBA is proud to co-present a discussion on American Jews in the Spanish Civil War with The Sousa Mendes Foundation. Join us and a distinguished panel.
The program is free but registration required; optional film rental.
_  
Register Here!  
Sunday, July 25
4 PM EDT/1 PM PDT
In the 1930s, nearly 3,000 Americans embarked for Europe to join the democratically elected Spanish Republic in its effort to repel a military coup led by Francisco Franco. Franco had the support of Nazi Germany and fascist Italy.  Nearly one-third of the Americans who went to Spain to fight fascism were Jews. This program presents their story.
Please note: Registration will close on Thursday, July 22 at 10 PM US Eastern Time. Instructions and links will be sent to you on Friday, July 23 and again on the morning of the program.
MEET THE PANEL
Dr. Gina Herrmann, who will moderate, is Professor of Romance Languages and Judaic Studies at the University of Oregon. She is the author of Written in Red: The Communist Memoir in Spain and editor and co-author of Spain, The Second World War and the Holocaust. Her new research focuses on cultural memory and literary engagement with French concentration camps of WWII and the mosaic of victims and administrators whose experiences in these camps constitute a laboratory of 20th century migrant and refugee internment. She is a member of the ALBA Executive Committee.
Dr. Joseph Butwin is recently retired from the English Department at the University of Washington where he also taught courses on Jewish-American Literature and Culture at the University's Stroum Center for Jewish Studies. In the early 1990s he interviewed 40 Jewish veterans of the Abraham Lincoln Brigade. He is currently preparing transcripts of these conversations for publication in Spain and the United States under the title Salud y Shalom: American Jews in the Spanish Civil War, 1936-1939. Selections from these interviews along with audio cuts can be seen and heard at this link.
Nancy Wallach is an award-winning art educator who will speak about her father, Hy Wallach, a volunteer fighter in Spain who served for many years as the treasurer, as well as corresponding secretary, of the Veterans of the Abraham Lincoln Brigade. She is a member of the Abraham Lincoln Brigade Archives (ALBA) Board of Governors. At a program organized by the Burgos Anti-Fascist Committee around the exhumations of the mass graves and prisons in Burgos, Spain, she provided testimony as to her own father's incarceration at the fascist concentration camp for International Brigade prisoners at San Pedro de Cardena. 
Abraham Lincoln Brigade Archives
PO Box 1245
New York, NY 10113
Email: info@alba-valb.org
Phone: 212-674-5398
Education For Liberation: Honoring The Legacy Of James E. Campbell - July 30 (Carl Bloice Institute for Socialist Education)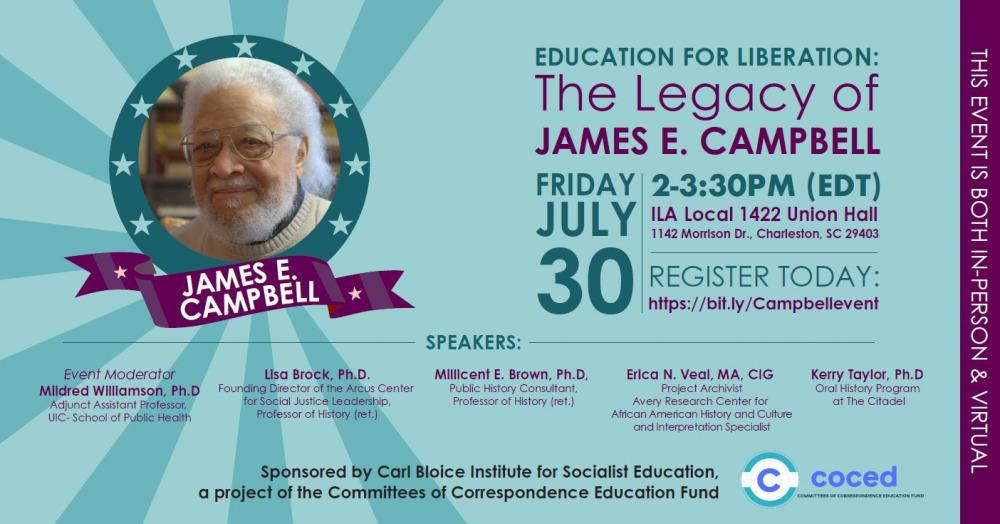 Stand with Warrior Met Miners - Brookwood, AL - August 4 (United Mine Workers of America)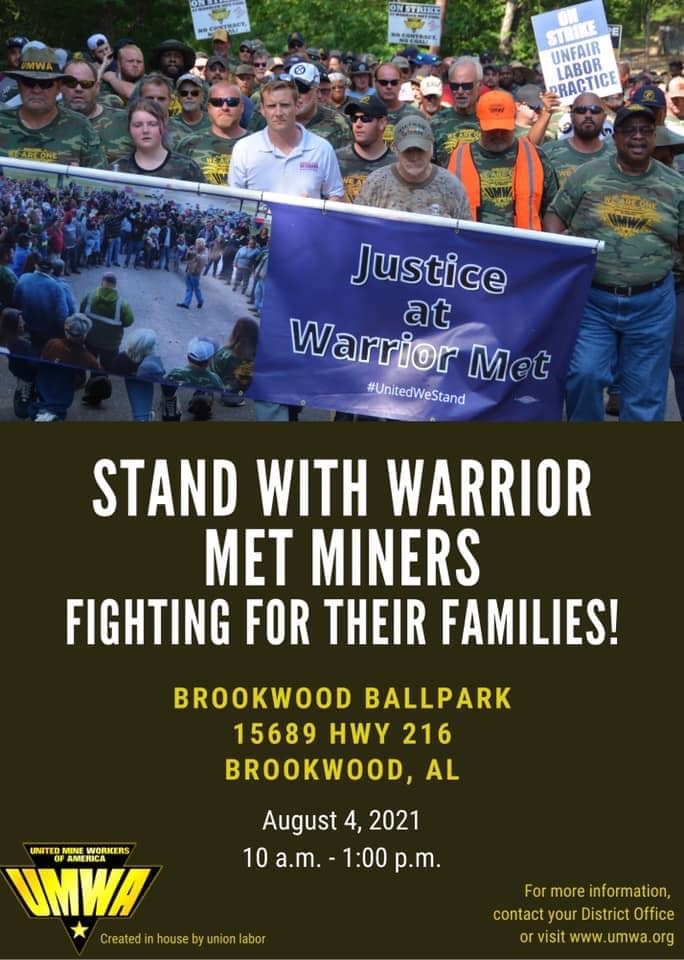 Stand with Warrior Met Miners
FIGHTING FOR FAMILIES.
FIGHTING FOR COMMUNITIES.
FIGHTING FOR DIGNITY.
FIGHT FOR WHAT THEY DESERVE.
Join the United Mine Workers of America, August 4, 2021 at Brookwood Ballpark to stand up to injustice!
Warrior Met Strike Solidarity Rally
Date: August 4, 2021
Time: 10:00 a.m. – 1:00 p.m.
Location: Brookwood Ballpark, 15689 Hwy 216, Brookwood, AL
Go to our Facebook Event for more information!
United Mine Workers of America
18354 Quantico Gateway Drive
Suite 200
Triangle, VA 22172
703.291.2400
info@umwa.org