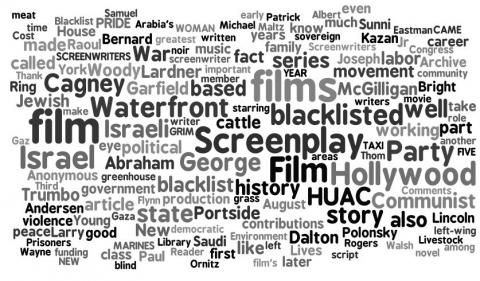 Reader Comments and Announcements - July 24, 2014, Portside
I think its important to remember the likes of Woody through his music and folklore and that he would have been over a hundred years old , it an important part of labor history.  Thanks for the antidotes on PBF and his benevolent influence on the Okies. And I didn't know they issued $1000.00 bill. We have so many immediate influences on our collective consciousness lately that a nice story like this makes one pause a bit to smile and reminisce.
John Christensen
     ====
Did you know he was an writer also?
Jim Brough
Posted on Portside's Facebook page
Re: 60 Years Later: On the Waterfront and Working-Class Studies
However Elia Kazan wanted to spin his role as HUAC and FBI informer, the fact is that he was a fink-a toad during what Dalton Trumbo called "the Time of the Toad." To save and promote his own career, he ruined the careers of many other artists who retained their integrity and their loyalty to their coworkers and friends. Brando remains perhaps this country's greatest film actor, but "On the Waterfront" was simply a stoolpigeon's self-tribute, despite Kazan's later attempts to describe it as a critique of capitalism, a rationale Kathy Newman seems to accept.
The Hollywood blacklist destroyed careers, families and in some cases, lives.  Kazan could have chosen to go to Europe or Mexico and build his career there, as did many writers and directors. Or if he wanted to portray the working class as he protests, he could have, like other blacklisted artists, made another "Salt of the Earth." Instead he chose to be a fink. His former colleague, Arthur Miller, who refused to inform, wrote "A View From the Bridge", which can be read as response to "On the Waterfront." Miller's play is the story of another longshoreman, Eddie Carbone, who, crazed with jealousy of his daughter's immigrant boyfriend, informs on the boyfriend to the immigration authorities and is thereafter shunned by his family.
p.s. The blacklisted writer Newman refers to was John Howard Lawson, not Howard Lawson.
Michael Myerson
     ====
     
This is a very thoughtful article about a great film I have shown many classes over the years in working class history courses. The rise of the labour movement began earlier than the Cold War and it accomplished much for workers before neoliberalism became the religion of multinational corporations and their political supporters. The film depicted how poor many workers in America were and how much strength it took to try to improve their lot. Anti-communism was an issue in labor history and in the Cold War but it was not as central as economic poverty.
Thanks for a good article.
Laurel MacDowell
     ====
     
I am sure many readers of Portside are aware that there were rank and file leftist longshoremen on the Brooklyn and Manhattan docks in the fifties and decades after whose work improved conditions and is one  of the reasons that longshoremen gained a historic level of security  in the face of the inevitable advance of containerization..
John Talbutt
     ====
     
What is left out of this discussion, apart from a very wishywashy attitude to that ratfink informer Kazan, is the fact that Budd Schulberg was also a snitch in the HUAC hearings and was, as much if not more than Kazan, trying to make up for his betrayals. At the same time, one should take a look at his very strange BOOK On The Waterfront, written AFTER the film. It has a VERY different ending: Terry Molloy's body parts are discovered in a grimy seedy location. GRIM GRIM GRIM.
Also, if you want to talk about working class literature about t he docks. why does not anyone refer to the novel by one of America's greatest champions of workingclass Americans, the blacklisted poet Thomas McGrath, who wrote a novel about the New York Waterfront and the corrupt union officials, This Coffin Has No Handles.
Any thoughts on this book????
Ernest Brill
     ====
View it side by side with Salt of the Earth and see whatcha think.
Ethan Young
Posted on Portside's Facebook page
Re: Building A Labor Base For Third Party Campaigning
(posted on Portside Labor)
A good, long read. Excellent footnotes for additional information.
Jeff Jones
Posted on Portside's Facebook page
Re: Death and Destruction in Gaza as Israel Launches Ground Invasion
The silence of much of the democratic left about the customary Israel over reaction in Gaza is deafening. It is almost but not quite as bad as the idiot left's automatiic anti-Israeli rants. What is clearer every day is that Israeli leaders do not want any even minimal two state solution. On the other hand they reject the idea of a secular Israel where no Jews can be equal citizens. So we will have endless violence with no prospect of any genuine peace.
Alas.
Bogdan Denitch
Re: We Are Israeli Reservists. We Refuse to Serve. A Petition
Alas there is real opposition to the Israeli War on Gaza. Military reservists continue to speak out forcefully not only against the recent incursions and aerial bombardments of alleged missile sites and arsenals but are organizing against the further militarization of a once so-called democratic Israel at least democratic for natives of East European Jewish descent. Only when citizens take direct non-violent action demanding significant change will anything be "compromised" by the rich, white, political elites. The military leadership is reportedly against these continued wars for an expanding Israel Occupation, even when they carry out the government's military actions. Sadly most of Peace Now movement is apparently done in. Perhaps they will see a resurgence.
Larry Aaronson
Posted on Portside's Facebook page
     ====
I salute these brave men and women who stand for peace
Ralph Lawrence
Posted on Portside's Facebook page
A friend writes: I have no argument with those who argue that no sovereign state can accept rocket fire on its territory. This is unacceptable and it is the duty of the government to prevent such occurrences.
And I write back: Any sovereign state that keeps almost two million men, women and children in a state of poverty and deprivation, and denied elementary human rights, cannot refuse to know that there will be, sooner or later, resistance to such oppression. This resistance will take many forms, including violence. The source of the violence is the state of oppression. You can eliminate the violence by eliminating the oppression. The citizens of any sovereign state will pay dearly for the attempt of their government to sustain an unsustainable situation.
Reuven Kaminer
Jerusalem 91090
Israel
Re: Central to the Achievement of the "Zionist Dream" is the Notion That Jewish Lives Matter More Than Arab Lives
Congratulations on a thoughtful and well-reasoned essay. A big step toward ending Israel's illegal and immoral actions against the Palestinian citizenry would be the end of the automatic 3 billion dollar annual aid package from the United States to the Israeli government. The United States government keeps giving new rope to the hangman.
Luis R Torres
Re: Saudi Arabia's Role in the Conflict Between Shia and Sunni
Turned a blind eye? Excuse me? Its hard to turn a blind eye to people you are in meetings with, like those that founded the Mujihadeen in Afghanistan, and subsequently the Taliban. The Saudis to do a lot of the funding and recruiting, the US to do some funding, and provide arms, ammunition, and training, the Pakistani intel to handle administration (taking a healthy cut for themselves) and providing the bases. As well as cheering on Sunni opposition to Iran across the Islamic world, posed as a Sunni-Shia struggle. Come on, "we" even turned a blind eye when we carefully allowed the Bin Laden family to fly out of the US right after 9/11, when no other commercial flights were permitted! Blind eye? Ahem, in the Nelsonian sense I suppose.
Jack Radey
Posted on Portside's Facebook page
     ====
another old family friend of the Bush family
Casey Gane
Posted on Portside's Facebook page
     ====
Game Of Oil
David Bryan
Posted on Portside's Facebook page
Re: Some 46,000 Prisoners Could Be Eligible for Reduced Sentences
Read the conditions, 46,000 won't be getting retroactive
Efia Nwangaza
Posted on Portside's Facebook page
Re: Anti-Imperialist Political Thesis of Cochabamba
Stop hating. Do something to help your country. Teach the children how to be productivity. What are you doing to help your fellow man? Stop wasting your time on negative things. We make our country a mockery. Time to let the USA be a proud, strong and a good place for all to live. The majority of those out front came from other countries themselves. Some was brought here against their will and has made the best of it, but there are still some fighting that. Live peaceful and let live. Love
Evelyn Baudoin-Glasper
Posted on Portside's Facebook page
Re: The heartbreak of being a teacher in Texas
(posted on Portside Labor)
this is NOT the model MN should be following!
Lydia Howell
Posted on Portside's Facebook page
Re: Beef Environment Cost 10 Times That of Other Livestock
A quick response to the article "Beef Environment Cost 10 Times That of Other Livestock". Several important factors are not analysed in this article.  Firstly, cattle are blamed for greenhouse gas production (never mind that millions of cattle have coexisted with humans for centuries, without causing global warming!).  The main greenhouse gas produced by cattle is methane, which indeed has a powerful greenhouse effect, but not analysed is the fact that methane does not accumulate in the atmosphere, but degrades into carbon dioxide, with a half-life of about 20 years.
Secondly, the report deals with one kind of system of beef production, presumably feedlots in the USA.  The fact that grazing cattle can convert grass into meat, thus making productive use of  millions of acres of land in hills and other areas unsuitable for crop production, is scarcely mentioned.  What is the adverse environmental effect of cattle grazing over large areas of grassland?
Thirdly, as again mentioned briefly in a throw-away remark, if we consume cheese, cream, yogurt, butter and milk, male calves are inevitably born.  Rearing them on grass and hay or silage is an efficient way of producing meat, in areas where grass grows readily - with on need for irrigation water!  Where is the adverse environmental impact?
Non-ruminant animals compete with humans for their feed -principally grain and soya.  I am not against producing or eating pork, eggs or chicken, but a balanced analysis of meat production is not given by this article.
Dan Morgan, Chile
Anonymous donors to Portside, that is. We occasionally receive a donation that we can not acknowledge individually because it is made anonymously. But if you are such a donor, thank you. You know who you are. (Anyone who is moved to give a contribution can do so here.)
-- the moderators
SCREENWRITERS AND THE BLACKLIST: BEFORE, DURING, AND AFTER  - New York - August 22-September 2
ANTHOLOGY FILM ARCHIVES + CINEASTE MAGAZINE PRESENT: SCREENWRITERS AND THE BLACKLIST: BEFORE, DURING, AND AFTER
August 22 - September 2
The damage wrought by the Hollywood blacklist, especially the hardships endured by its victims, has been well documented. This series showcases the artistic contributions of prominent blacklisted screenwriters, including well-known radicals such as Hugo Butler, Dalton Trumbo, Ben Barzman, Abraham Polonsky, and Ring Lardner, Jr. Recent scholarship by Thom Andersen, Pat McGilligan, and Larry Ceplair emphasizes how films by blacklisted personnel yielded scripts (written, in many cases, by unapologetic Communists or left-wing activists closely aligned with the party) that explored, both subtly and blatantly, the nuances of race, class, and gender, as well as issues of justice and equity.
In the first installment of a three-part series, we'll be focusing on films made before the imposition of the blacklist in 1947 or before the screenwriters in question were prevented from working under their actual names. Film noir, for example, a genre that proved fertile territory for Hollywood radicals, is represented by Abraham Polonsky's FORCE OF EVIL, while the shifting political landscape during World War II is discernible in George Stevens's WOMAN OF THE YEAR (co-written by Ring Lardner, Jr.) and Delmer Daves's PRIDE OF THE MARINES (written by Albert Maltz). This first part of the series also encompasses rarely-screened films such as Bernard Vorhaus's THREE FACES WEST (Samuel Ornitz) and John Farrow's FIVE CAME BACK (Dalton Trumbo), among others, many of them discussed in Thom Andersen and Noël Burch's brilliant essay film, RED HOLLYWOOD, which will be enjoying a re-release this summer at the Film Society of Lincoln Center.
The second part of the series, coming this fall, will highlight films produced during the blacklist, by writers either working in exile in the UK, France, Mexico, and elsewhere, or toiling in the shadows of credited `fronts,' while the third and final installment will feature `comeback' films made in the post-blacklist era.
Co-presented by Cineaste Magazine which has been a major source for blacklist-related scholarship throughout its 40-plus-year history, SCREENWRITERS AND THE BLACKLIST is also presented in collaboration with the Film Society of Lincoln Center, which will be hosting a week-long revival run of Thom Andersen and Noël Burch's RED HOLLYWOOD, as well as a parallel series of films by blacklisted directors and writers, curated by Andersen. For more info on both Film Society programs, which will take place from August 15-21, visit www.filmlinc.com.
Special thanks to series co-curator Richard Porton, as well as to Patrick McGilligan, Larry Ceplair, Daniel Bish (George Eastman House), Paul Ginsburg (Universal), Mark Johnson (Harvard Film Archive), Mark McElhatten (Sikelia), Kristie Nakamura (WB), Judy Nicaud (Paramount), Lynanne Schweighofer (Library of Congress), Todd Wiener & Steven Hill (UCLA Film & Television Archive).
Abraham Polonsky - FORCE OF EVIL
1948, 78 min, 35mm, b&w. Screenplay by Abraham Polonsky and Ira Wolfert, based on Wolfert's novel. 35mm preservation print courtesy of the UCLA Film & Television Archive. Preservation funding provided by The Film Foundation and the Archive Council.
Based on Ira Wolfert's TUCKER'S PEOPLE, Polonsky's film noir, dismissed upon its release and later celebrated as an unsung classic, is famous for making parallels between capitalism and the criminal underworld. The film's emotional core resides in the fraught relationship between corrupt lawyer Joe Morse (John Garfield) and his ailing brother Leo (Thomas Gomez). Polonsky and Wolfert were subsequently blacklisted and John Garfield's premature death is often attributed to the pressures exerted by HUAC; threatened with blacklisting, he refused to name names despite his disillusionment with the Communist Party.   "The greatest debut in the history of noir." -Jonathan Rosenbaum
Fri, Aug 22 at 7:00 and Sat, Aug 23 at 7:00.
John Farrow - FIVE CAME BACK
1939, 75 min, 16mm, b&w. Screenplay by Dalton Trumbo, with Jerome Cady and Nathanael West, based on a story by Richard Carroll. With Chester Morris, Lucille Ball, Wendy Barrie, John Carradine, and Joseph Calleia. From the collection of George Eastman House.
An exemplary B movie often cited as a precursor of 1970s `disaster films,' FIVE CAME BACK features a script from Dalton Trumbo (with contributions from Jerry Cady and novelist Nathanael West, a writer with many ties to the Communist Party) that manages to inject political commentary into what superficially seems like a standard thriller. When a plane en route to Panama is forced to crash land in the jungle, a motley assortment of survivors bicker and scheme as they try to return to civilization. The film's political tenor becomes clear as it emerges that an anarchist named Vasquez, played by Joseph Calleia, is in fact the film's most admirable, and rational, character.
Fri, Aug 22 at 9:00 and Sun, Aug 31 at 4:15.
Delmer Daves - PRIDE OF THE MARINES
1945, 120 min, 35mm, b&w. Screenplay by Albert Maltz, adapted by Marvin Borowsky from a book by Roger Butterfield. With John Garfield and Eleanor Parker.
"Written by Albert Maltz and starring fellow future [HUAC victim] John Garfield, PRIDE OF THE MARINES features Garfield as a brash Philly welder who enlists with the Marines only to get blinded in the Pacific. With semi-documentary detail and a feel for day-to-day dramas and crushing challenges alike, PRIDE follows Al Schmid as he's fixed up with a woman (Eleanor Parker), then ships out to the jungle gun nests of Guadalcanal, surviving yet reluctant to leave the hospital. Daves and Garfield sensitively portray Schmid's bonds with his tough-willed girl, wisecracking buddies, and, touchingly, a Red Cross letter-writer." -Nicolas Rapold
Sat, Aug 23 at 2:30, Tues, Aug 26 at 9:15, and Wed, Aug 27 at 9:00.
Bernard Vorhaus - THREE FACES WEST
1940, 79 min, 16mm, b&w. Screenplay by Samuel Ornitz, with F. Hugh Herbert and Joseph Moncure March. With John Wayne and Charles Coburn. From the collection of George Eastman House.
Samuel Ornitz, one of the Hollywood Ten eventually blacklisted after being called before the House Un-American Activities Committee, contributed to the script of this film, which Paul Buhle and Dave Wagner termed a modern western, "notable for its evocation of rural values (rather than gunplay) and anti-Nazism that extends even to a criticism of regressive nativism and praise for the `good German.'" The plot revolves around a doctor and his adult daughter, refugees from Nazi-annexed Austria, who arrive in Oregon and eventually become part of a modern-day wagon train, led by a sympathetic John Wayne (who in reality later helped to blacklist many of his Hollywood colleagues), that transplants them to a new farming community in a rural part of the state.
"I highly recommend it if you pine for a left-wing John Wayne film." -Patrick McGilligan, CINEASTE
Sat, Aug 23 at 5:00 and Thurs, Aug 28 at 7:00.
Raoul Walsh - THE LAWLESS BREED
1953, 83 min, 35mm. Screenplay by Bernard Gordon; story by William Alland. With Rock Hudson.
Screenwriter Bernard Gordon had somehow eluded the attention of HUAC through the early 1950s, only to discover he'd been subpoenaed to appear before the committee as he was putting the finishing touches on his script for this Raoul Walsh film. Credited as the sole screenwriter, it would be his last Hollywood credit until Nicholas Ray's 55 DAYS AT PEKING. THE LAWLESS BREED stars Rock Hudson as Texas desperado and latter-day folk hero John Wesley Hardin (the inspiration for Bob Dylan's 1967 album `John Wesley Harding'), depicting him as an ambivalent outlaw who reforms in his middle-age and attempts to discourage his son from following in his violent footsteps.
Sat, Aug 23 at 9:00 and Mon, Aug 25 at 7:00.
Joseph Losey - THE BOY WITH GREEN HAIR
1948, 82 min, 35mm. Screenplay by Ben Barzman, with Alfred Lewis Levitt; based on a story by Betsy Beaton. With Dean Stockwell.
"Losey's remarkable debut feature combines the magical realism of a children's story with the bold, message-driven radicalism of the Depression-era proletariat theater where he received his first crucial training as a director. Dean Stockwell stars as the titular boy whose mysterious transformation awakens the fears and prejudices dormant in his small hometown. A cult favorite and among Losey's most enduring films, THE BOY WITH GREEN HAIR is also one of the more outspokenly Leftist films of the 1940s, a final vestige of Rooseveltian Hollywood on the eve of the Red Scare that would count Losey as one of its most prominent victims." -HARVARD FILM ARCHIVE
Sun, Aug 24 at 5:00, Wed, Aug 27 at 7:00, and Thurs, Aug 28 at 9:00.
George Stevens - WOMAN OF THE YEAR
1942, 114 min, 35mm, b&w. Screenplay by Ring Lardner Jr., with Michael Kanin.
When asked by HUAC if he had ever been a member of the Communist Party, screenwriter Ring Lardner, Jr. famously responded, "I could answer.. But, if I did, I'd hate myself in the morning." Best known as the first film that Spencer Tracy and Katharine Hepburn co-starred in, WOMAN OF THE YEAR pits cultivated journalist Tess Harding (the role was loosely based on the career of Dorothy Thompson, a famous columnist and broadcaster) against Sam Craig, a down-to-earth sportswriter she ends up marrying. Lardner complained that his original ending was butchered by a rewrite by the conservative (and uncredited) screenwriter John Lee Mahin.
Sun, Aug 24 at 9:00, Tues, Aug 26 at 6:45, and Sat, Aug 30 at 3:15.
Raoul Walsh - NORTHERN PURSUIT
1943, 93 min, 35mm. Screenplay by Alvah Bessie and Frank Gruber, based on a story by Leslie T. White.
This Raoul Walsh-Errol Flynn collaboration (one of seven films they would make together) was scripted by Alvah Bessie, who as a member of the Hollywood Ten would eventually be imprisoned for refusing to testify before HUAC. Bessie's pre-blacklist career was anything but quiet though - he started out as an actor in the Provincetown Players (famed for their early productions of Eugene O'Neill's plays), lived for several years in Paris where he translated avant-garde literature, and fought in the Spanish Civil War as a member of the Abraham Lincoln Brigade. Subsequently joining the Communist Party and becoming a film reviewer for THE NEW MASSES, he was nominated for an Oscar for his work on the 1945 Walsh-Flynn WWII drama OBJECTIVE, BURMA! In this earlier film, Flynn is Canadian mountie Steve Wagner, who thanks to his German ancestry is called upon to infiltrate a network of Nazi sympathizers. Going deep undercover, Flynn attempts to foil the dastardly sabotage plot of special agent Hugo von Keller (Helmut Dantine).
Sun, Aug 24 at 7:00, Mon, Aug 25 at 9:00, and Sat, Aug 30 at 5:45.
Roy Del Ruth - TAXI!
1932, 69 min, 35mm. Screenplay by John Bright and Kubec Glasmon, based on the play by Kenyon Nicholson. With James Cagney, Loretta Young, and George E. Stone. Preserved by the Library of Congress.
Rising young Warner Brothers star Jimmy Cagney speaks fluent Yiddish and dances in TAXI!, which fuses a tale of labor strife with gangster movie motifs. Along the way, cabbie Cagney, when he's able to control his temper, also finds time to woo, and marry, Loretta Young. This gritty New York-based movie was co-written by John Bright, identified in Patrick McGilligan and Paul Buhle's TENDER COMRADES "as one of the original `secret four' members of the Hollywood section of the Communist Party [who] participated in every left-wing cause that came along." In the early 1930s, Bright worked on some of the most celebrated Cagney vehicles - THE PUBLIC ENEMY, BLONDE CRAZY, SMART MONEY, and THE CROWD ROARS. Bright was instrumental in arranging for Cagney to visit the jailed labor activist Tom Mooney and confessed to McGilligan and Ken Mate: "Cagney and I were both called in by Jack Warner, who raised hell about us being Communist dupes." Nevertheless, TAXI! proved insufficiently radical for the hardcore left - in NEW THEATER, Lincoln Kirstein complained that Cagney should instead be starring in proletarian dramas like Clifford Odets's WAITING FOR LEFTY.
Mon, Sept 1 at 7:15 and Tues, Sept 2 at 9:15.
Garson Kanin - TOM DICK AND HARRY
1941, 87 min, 35mm, b&w. Screenplay by Paul Jarrico; starring Ginger Rogers, George Murphy, Burgess Meredith, and Alan Marshal. Preserved by the Library of Congress.
In this comic jab at the American dream and the quest for success, Ginger Rogers has to choose between three suitors. THE DAILY WORKER called it "the screwiest and most delightful farce of the year" although THE NEW MASSES' Joy Davidman faulted it for "male chauvinism." "Funny as well as fascinating, this wartime comedy about Ginger Rogers trying to choose among three suitors.boasts a few wild surrealist dream sequences about what marriage to each swain might entail, as well as many details that are highly evocative of the period." -Jonathan Rosenbaum, CHICAGO READER
Mon, Sept 1 at 9:00 and Tues, Sept 2 at 7:15.
For screeners, images and further details, please contact: Ava Tews, Director of Communications, Anthology Film Archives (212) 505-5181 ext. 20
About Anthology Film Archives:  Founded in 1970, Anthology's mission is to preserve, exhibit, and promote public and scholarly understanding of independent, classic, and avant-garde cinema. Anthology screens more than 1,000 film and video programs per year, publishes books and catalogs annually, and has preserved more than 900 films to date.
Directions: Anthology is at 32 Second Ave. at 2nd St.
Subway: F to 2nd Ave; 6 to Bleecker.
Tickets: $10 general; $8 for students, seniors, & children (12 & under); $6 AFA members