Tidbits - June 4, 2015 - Korean War End?; Spanish elections; Puerto Rico; Oscar López Rivera; Emmy Noether; Gaza Peace Concert; Tiananmen Square; Angela Acquitted; more...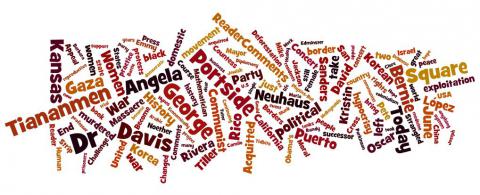 Tidbits - Reader Comments and Announcements - June 4, 2015,Portside
Re: Can Women End Korean War?; Continuing the Centennial Work of Women and Citizen Diplomacy in Korea
I say God bless the women, the naive, the foolish. Those who take these risks may get something more done than all the realists we have.
David McReynolds
     ====
Steinem's claim about women's superiority as peacemakers is undermined by the actual decisions of women political leaders, including our own Clinton, for war. This experience should be sufficient to move us toward understanding the true causes of war (imperialism, etc) and away from the false argument that war is gender based.
 
Mike Munk
Re: Countess v Communist in Battle to Become Mayor of Madrid
Yet another coalition of left wing groups and parties vying for power in yet another country with proportional election systems?!? Imagine that for this country if you will.
Pete
Posted on Portside's Facebook page
     ====
People all over the world are openly discussing change for a better way of life.
Barbara Tutor
Posted on Portside's Facebook page
     ====
They'd better hurry before Hillary Kissinger gets into office! She'll do like her mentor Henry Kissinger and send money and CIA to kill the democratic forces just as they did throughout Latin America . . . because, of course, they support "democratic" governments!
Michael Berkowitz
Posted on Portside's Facebook page
     ====
Somewhere Dolores Ibarruri is smiling broadly.
Joseph A. Clore
Posted on Portside's Facebook page
Re: How the United States Economically and Politically Strangled Puerto Rico
Wow!
Chilling, detailed account, much of which I wasn't aware of ---
Alfred Rose
Posted on Portside's Facebook page
     ====
Puerto Rico is a 72 billion dollars business for USA. It gets 7 billion dollars in federal aid. Good business for USA.
Camilo Perez Padin
Posted on Portside's Facebook page
     ====
.....just one example of the great white settler nation.....important. ..then learn more....
Tom Edminster
Posted on Portside's Facebook page
     ====
I have the book , and after I finish reading this book I felt so angry, I don't even want to say anything -  But, f--k, the United States...My son sent me the book as a mother's day gift.I just couldn't believe what I was reading. I became angry, I cried. so many mix feelings...
Lydia Rosario Burgos
Posted on Portside's Facebook page
     ====
That's how colonialism operates: it takes any resources, represses political movement and nips any economic plans in the bud.
Marthe Raymond
Posted on Portside's Facebook page
Re: President Obama's Human and Moral Challenge: Oscar López Rivera
Actually Leonard Peltier has been held as a political prisoner longer, but both men should have been freed long ago.
Lynn DeWeese Parkinson
Posted on Portside's Facebook page
Re: The Press and Bernie Sanders
Despite certain misgivings, I am thrilled that Bernie is running! At a minimum, anything that promises to expand the dialog is great.
TPP aside, I wish he would be more clear about foreign policy and peace. Without getting this straightened out, there is no hope for a really progressive domestic agenda. War fever is poisoning our nation, and is a subterranean cause of many domestic problems. A clear position would further differentiate Bernie from Hillary, who has proven herself a hawk during her stint as Secretary of State.
We are not in Teddy Roosevelt land any more. Guns and butter cannot coexist now. The guns (for ourselves and all our subservient foreigners) are just too expensive.  Both in money and in morals.
To Bernie Sanders: be as vocal and cogent about foreign affairs and conversion from our perpetual state of war as you are about domestic issues, and I will give you my wholehearted support.
David Ecklein
Rumney NH
There's the left I remember! The socialists want to create a single party to take on the two party system, and the Democrats dismiss the left as marginal and counterproductive! What happened to constructive engagement. Oh yeah, no such thing.
Pete Healey
Posted on Portside's Facebook page
Re: The Female Mathematician Who Changed the Course of Physics-But Couldn't Get a Job
It was (and still is in some ways) a man's world... Also she had the misfortune of being born during a time when her religion was tabu in Germany [frown]  Watched special on PBS on this woman
Maria Costarelli Hynes
Posted on Portside's Facebook page
     ====
What a great piece on the brilliant mathematician, Emmy Noether! Most people have probably never heard of her, but should have. Sharing
Carl Scariati
Posted on Portside's Facebook page
Deforestation, exploitation, hypocrisy
Global capital, hypocrisy, theft, exploitation, and environmental destruction...makes me sick...and it's everywhere...
    "We used to plant plantains, cassava, cocoyam and vegetables here, as well as trees for timber. We grew wood for businesses, for houses and to feed ourselves - for firewood. Now because the forest is gone we have nothing left. When the project finishes, we will have no future left. Wilmar wants to render us useless in life. But we will not accept this." - See more at:
    Deforestation, exploitation, hypocrisy: no end to Wilmar's palm oil land grabs
           
Randy Gould
Posted on Portside's Facebook page
 

Appeal by Dr. Kristin Neuhaus, successor to murdered Dr. George Tiller
Can post a link to the crowdfunding appeal by Dr. Kristin Neuhaus, who is going broke trying to keep reproductive rights alive in Kansas, against huge opposition? She took over Dr. George Tiller's reproductive rights practice after he was murdered by an Operation Rescue fanatic. The state of Kansas wants to drive her into bankruptcy and out of the state--they took away her license to practice medicine; she sued and won, but they still won't give it back until she appeals indefinitely, and she was fired from her university job. As she describes the current situation in Kansas: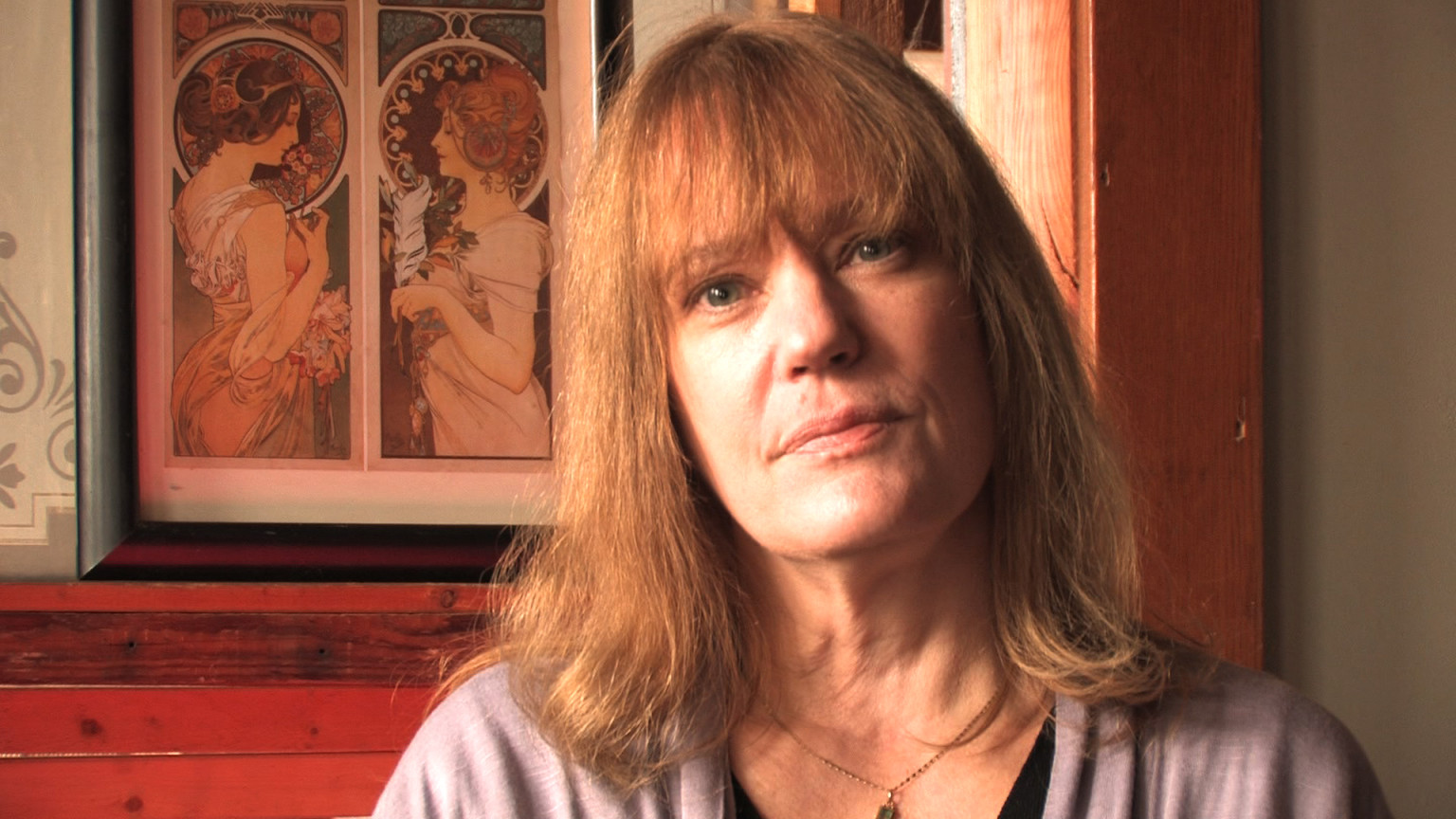 Kansas is now firmly in control of Tea Party Republicans intent on arming everyone, ridding the state of public schools and poor people, trampling the civil rights of its citizens and mandating that doctors practice bad medicine
For years the Kansas medical board has been completely silent about the unethical and adverse health consequences of the ongoing of dangerous and senseless legislation added to the Kansas statutes, and it continues to field an unending stream of unfounded complaints from a convicted domestic terrorist. On March 25, 2015 before the Kansas legislature, Rep. Mike Kiegerl compared me to Josef Mengele, complaining that Dr. George "Tiller is dead but Neuhaus is still alive".
Here is her story and the appeal.
Meredith Tax
www.meredithtax.org
www.centreforsecularspace.org
        =====
Don't let Kansas be a road-block to democracy and women's rights...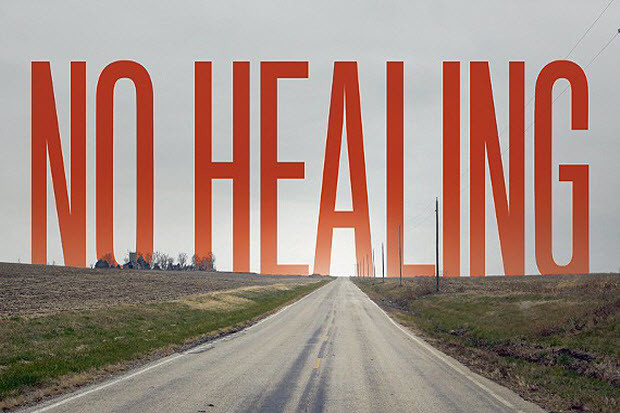 Happening Today - Cross Borders Concert at the Gaza Strip border
Memory and Hope at the Core of Confrontation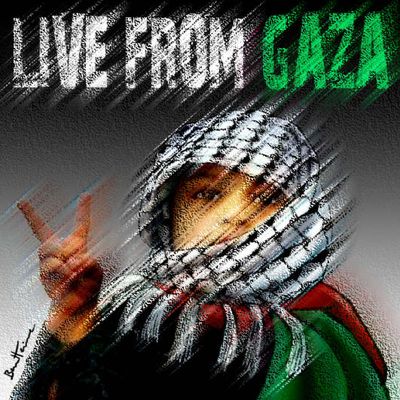 On the anniversary of the last round of bloodshed between Israel and Gaza we will meet near the border, under the open sky, at dusk to make what may bring down the walls and bring people closer together - music.
The event will take place on Thursday, 4th of June 2015, at 20:00 in Kibbutz Kfar Aza, and will echo the struggle of residents of the Western Negev and other Southern residents to bring an end to the bloody conflict between Israel and Gaza and to set out on the path of a political solution.
The concert will comprise two parts, leading the way from mourning to hope:
 
Part I  Mourning: Mozart's Requiem and Jewish and Arabic dirges, as a burial service to all the victims of the last war, Israelis and Palestinians. The Tel Aviv Soloists Ensemble, the Ichud Choir, the Kibbutz Artzi Choir and the soloists Daniela Skorka Soprano, Yasmin Van Der Hal Alto, Adi Cesare Tenor and Yoel Sivan Bass, will play and sing under the baton of conductor Avner Itai.
 
Part II Hope: aspiring for dialogue and reconciliation. Jewish and Arab musicians, men and women, will collaborate and sing together in Hebrew and Arabic. Yair Dalal, Miriam Toukan, Idan Toledano, George Simaan, Salem Darwish, Micha Bitton, Rakefet Amsalem, Halil el Awiwi Shargi Band, David Peretz, Lubna Salame and Fred Johnson, a guest musician from the USA, will move us with singing that comes from the heart.
 
The concert is a private-Civilian initiative of musicians throughout the country. Residents and artists from the Western Negev are involved in carrying it out and we invite you to take part in the project and help us to fulfill it. The concert is a nonprofit event and the donations and tickets sales are intended only for funding the production costs.
Contact: +972-(0)52-2543125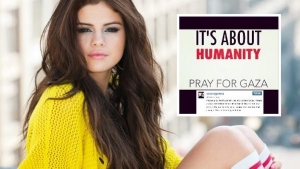 Selena Gomez
 
We Remember: Today in History - Tiananmen Square Massacre
June 4, 1989 - The Chinese government after weeks of the occupation of Tiananmen Square in Beijing, and after weeks of division within the top ranks of the Communist, ruthlessly crushed the Chinese democracy movement.
The Tank Man of Tiananmen made history by his efforts to stop tanks rolling into Tiananmen Square in China to crush student protests.
Here is a video of what occurred: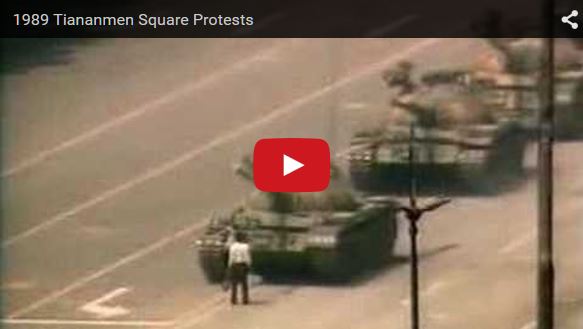 A documentary on the Tiananmen Square protests of 1989, focusing on the iconic image of a single protester who stood in front of a line of advancing tanks.
The film also examines the reasons behind the protests, and their long term effects on China and the world.
Film posted Feb. 28, 2015
Today in History - Angela Davis Acquitted of All Charges - June 4, 1972
Looking Black On Today In1972, Angela Davis Was Acquitted By All White Jury In San Jose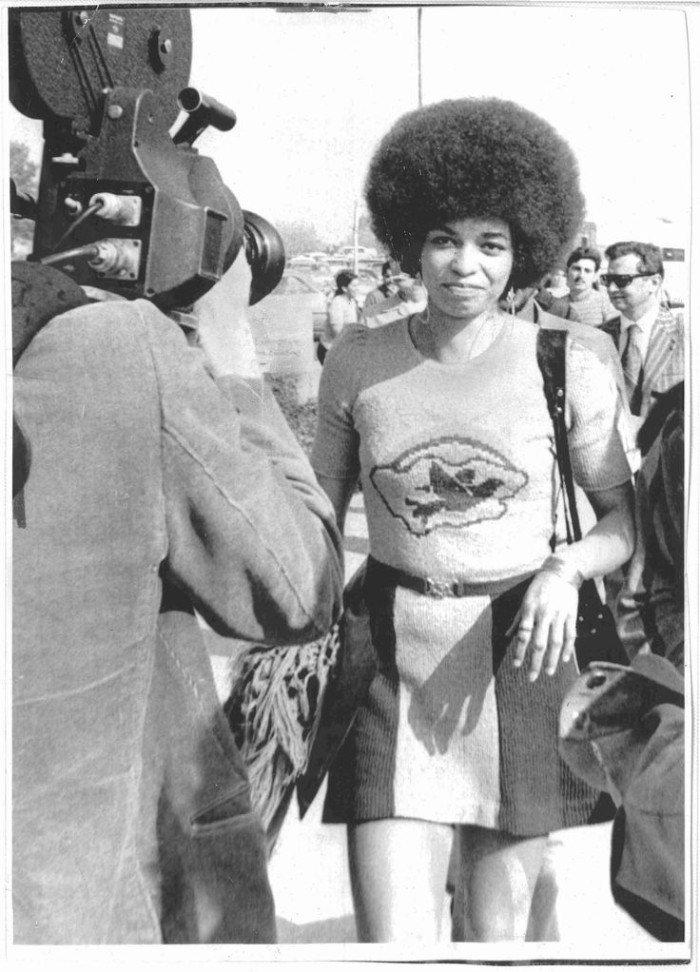 Angela Yvonne Davis, a black militant, former philosophy professor at the University of California, and self-proclaimed communist, is acquitted on charges of conspiracy, murder, and kidnapping by an all-white jury in San Jose, California.
In October 1970, Davis was arrested in New York City in connection with a shootout that occurred on August 7 in a San Raphael, California, courtroom. She was accused of supplying weapons to Jonathan Jackson, who burst into the courtroom in a bid to free inmates on trial there and take hostages whom he hoped to exchange for his brother George, a black radical imprisoned at San Quentin Prison. In the subsequent shoot-out with police, Jonathan Jackson was killed along with Superior Court Judge Harold Haley and two inmates.
Davis, who had championed the cause of black prisoners and was friends with George Jackson, was indicted in the crime but went into hiding. One of the Federal Bureau of Investigation's most wanted criminals, she was apprehended only two months later. Her trial began in March 1972 and drew international attention because of the weakness of the prosecution's case and obvious political nature of the proceedings. In June 1972, she was acquitted of all charges.
After leaving the criminal justice system, she returned to teaching and writing and in 1980 was the vice-presidential candidate of the U.S. Communist Party. In 1991, she became a professor in the field of the history of consciousness at the University of California at Santa Cruz. Four years later, she was appointed a presidential chair at the university amid controversy that stemmed from her communist and black militant background. Her writings include Angela Davis: An Autobiography and Women, Race, and Class. Though no longer a member of the Communist Party, Davis continues to be active in politics, most notably speaking out against the death penalty.