Tidbits – Mar. 23, 2023 – Reader Comments: Bank Failures, Deregulation and Fed-Raising Interest Rates; He Illegal Invasion of Iraq; Slash Pentagon Budget; Jim Crow South; New Day for UAW; Letters From Langston; US Policy and Taiwan; How Workers Win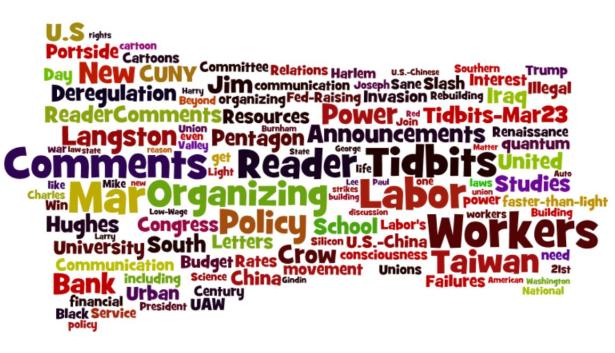 Tidbits - Reader Comments, Resources, Announcements, AND cartoons - Mar. 23 2023,Portside
Bank Failures, Deregulation and Fed-Raising Interest Rates
Re: The Illegal Invasion of Iraq: Never Forget  (Daniel Millstone)
Re: The Reagan Hostage Plot That Defeated Jimmy Carter  (Stan Nadel)
Re: 60+ Faith Groups Urge Congress to 'Dramatically' Slash Pentagon Budget  (Larry Duprey)
And Then...The Country Was Saved  -- meme
Re: A Regional Reign of Terror  (Norm Littlejohn;  Van Caldwell)
Re: It's a New Day in the United Auto Workers  (Timothy Sheard)
Re: Union of Southern Service Workers Is Organizing Low-Wage Workers Across Industries  (Sam Gindin)
Re: Why Unions Matter So Much  (Charles Wyatt Jr.)
Visions  --  cartoon by Mike Luckovich
Re: The Oscars Were Invented To Breakup Hollywood Unions  (Paul Buhle)
Re: Tribulations of the US Democratic Left  (Eleanor Roosevelt)
Re: The Too-Large-For Life Harry Bridges  (Charles Patrick Lynch)
Re: What the Saudi-Iran Deal Means for Palestine, Israel, the U.S., and the Mideast  (Rob Prince)
Re: Sunday Science: Even With Quantum Entanglement, There's No Faster-Than-Light Communication  (Steve Leeper)
Resources:

Announcements:
Re: Elizabeth Warren: Silicon Valley Bank Is Gone. We Know Who Is Responsible
Maybe if we held the CEO, CFO and others managing these financial institutions liable for their poor decisions we might not have this problem.
Top management gave themselves golden parachutes (bonuses) the day before the collapse. Criminal
Rich Hilbun
Posted on Portside's Facebook page
      =====
But deregulation is what the GOP promotes...go figure.
Wi Rodriguez
Posted on Portside's Facebook page
      =====
weakening regulations a Trump and Republican mantra is the reason for this collapse! Regulations are there in all industries for a reasons. CEO's get bigger than needed salaries to produce profits to boost stock prices, dividends and revenue for shareholders. They don't give a crap about how they achieve these goals anymore. Many CEOs and companies have lost their social responsibility
Joseph Gatto
Posted on Portside's Facebook page
      =====
Remember when Trump said he was a great businessman even though he had gone bankrupt 6 times?  
Greg Becker, the chief executive of Silicon Valley Bank, was one of the ?many high-powered executives who lobbied Congress to weaken the law. In 2018, the big banks won. With support from both parties, President Donald Trump signed a law to roll back critical parts of Dodd-Frank. Regulators, including the Federal Reserve chair Jerome Powell, then made a bad situation worse, ??letting financial institutions load up on risk.
Ben Lee
Posted on Portside's Facebook page
      =====
They need to claw back that money. That's so gross; they just took people's life savings and gave it to themselves.
Joseph Boyle
Posted on Portside's Facebook page
      =====
The people responsible for the bank's failure should be made to pay for the bailout out of the bonuses they received. Congress should repeal the weakening of the Dodd Frank legislation to make sure no more banks fail in the future.
Deloris Lori Back-Berger
Posted on Portside's Facebook page
      =====
They should seize the assets from all the higher ranking bank managers who drove the bank into the ground. That would definitely discourage more bank leadership from doing this. 
Karl Spoolman
Posted on Portside's Facebook page
      =====
Tt was under trump's reign that banking regulations that Obama had put in place were rescinded. It had nothing to do with President Biden.
Karin Weinfurtner
Posted on Portside's Facebook page
Deregulation  --  cartoon by Nick Anderson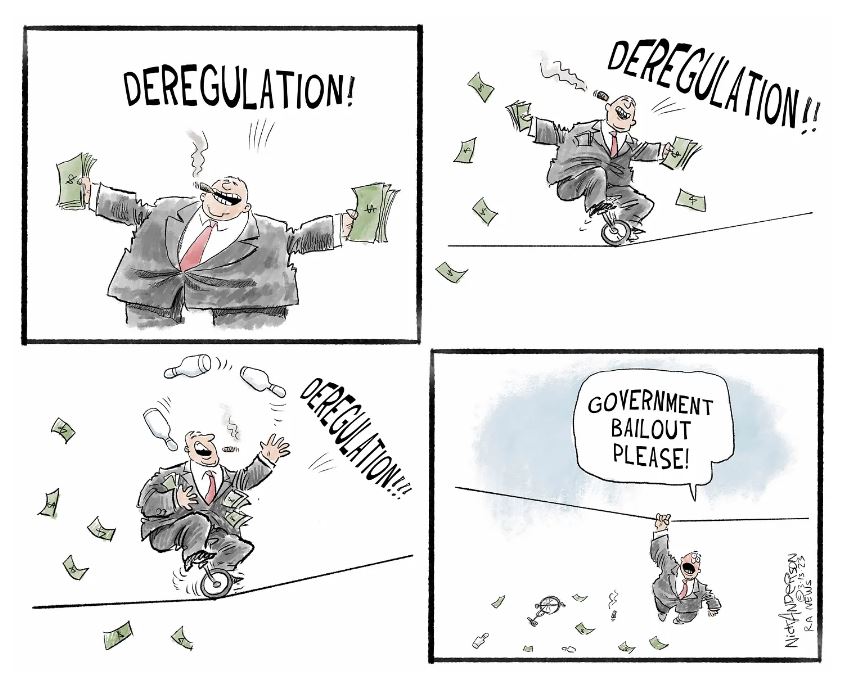 We've seen this movie before. The financial industry pushes for deregulation. The financial industry takes on more and more risk because it pays in the short run to gamble with other people's money. Then the gambit eventually fails and these idiots need to be bailed out in order to protect the larger financial system. Why do we keep letting these jackasses get away with this?
Nick Anderson
March 13, 2023
Pen Strokes
Re: The Illegal Invasion of Iraq: Never Forget  
Everything they said about the war in Iraq from "Weapons of Mass Destruction" to "Saddam caused 9/11" to "The war will pay for itself." was a lie including "and" and "the." And yet the perpetrators are walking around free after stealing upwards of $3 trillion from us and giving them to military contractors. George W. Bush even made fun of himself on TV pretend hunting for the WMD. Colin Powell, Condoleezza Rice, Donald Rumsfeld, Dick Cheney, Paul Wolfowitz, Judith Miller. Cursed be their names and memories. Thanks to Portside for the link.
Daniel Millstone
Posted on Portside's Facebook page
Re: The Reagan Hostage Plot That Defeated Jimmy Carter  
So 2 Republican Presidents were elected by Republicans making promises to foreign governments to have them influence the election.  It doesn't meet the Constitutional definition of treason, but it comes close. So much for their supposed patriotism.
Stan Nadel
Re: 60+ Faith Groups Urge Congress to 'Dramatically' Slash Pentagon Budget  
No profit in peace
Larry Duprey
Posted on Portside's Facebook page
And Then...The Country Was Saved  -- meme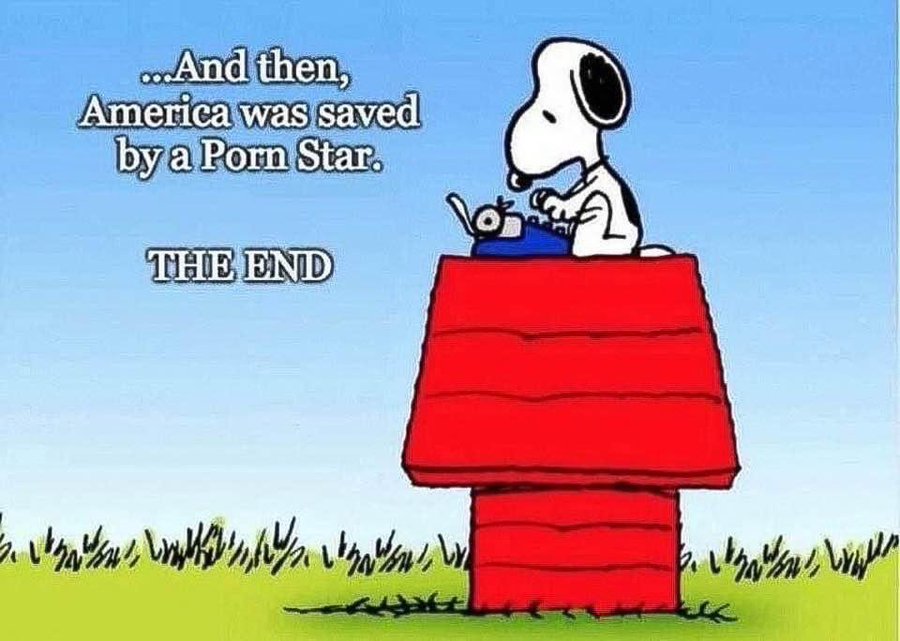 Meme posting all over Facebook, Twitter and Pinterest
Lalo Alcaraz Retweeted
March 19, 2023
Re: A Regional Reign of Terror  
"In the Jim Crow South, for a Black person to step outside norms of behavior established by whites could be a death sentence. Violence could erupt at any time, for any reason, or for no reason at all. The "mundane, largely hidden violence" that loomed over Black life is the subject of Margaret A. Burnham's new book, By Hands Now Known: Jim Crow's Legal Executioners, a work by turns shocking, moving, and thought-provoking. It merits the attention of anyone interested in the historical roots of the civil rights movement of the 1960s and, more recently, Black Lives Matter."
Norm Littlejohn
Posted on Portside's Facebook page
      =====
Book Reviewed: By Hands Now Known: Jim Crow's Legal Executioners by Margaret A. Burnham Norton, 328 pp.,
"Burnham's account focuses on particularly dangerous locations, such as Birmingham, where the laws prohibiting homicide, she writes, "simply did not apply" to the police. Long before the 1963 confrontation between "Bull" Connor's dogs and fire hoses and young civil rights demonstrators that marked the high point of the mass civil rights movement, shootings of Blacks and the bombing of their homes were shockingly commonplace. Fifty bombings took place in the city between 1947 and 1965, mostly directed against Black families who breached the color line by seeking to move into white neighborhoods. In 1948 alone, according to the Birmingham World, a Black newspaper, sixteen African American men died at the hands of law enforcement officers."
Van Caldwell
Posted on Portside's Facebook page
Re: It's a New Day in the United Auto Workers
(posting on Portside Labor)  
Great article on the UAW, thanks so much, 
Timothy Sheard
Re: Union of Southern Service Workers Is Organizing Low-Wage Workers Across Industries
(posting on Portside Labor)  
Very interesting piece on organizing in the south across sectors. Unfortunately, it had no numbers - can the writer forward that?
Sam Gindin
"... Jamelle Bouie, a Times Opinion columnist, captured this asymmetry when he wrote: "Republicans and other conservatives know who their enemies are — they know that organized labor is a key obstacle to dismantling the social safety net...."
Charles Wyatt Jr.
Posted on Portside's Facebook page
Visions  --  cartoon by Mike Luckovich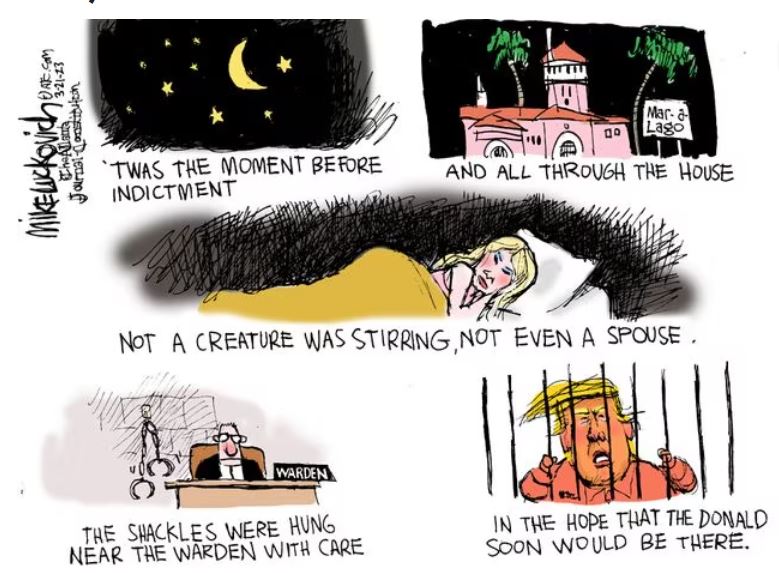 Mike Luckovich
March 21, 2023
Atlanta Journal-Constitution
Re: The Oscars Were Invented To Breakup Hollywood Unions  
I am a little shaky on this history, but it sounds right. The firing of union activists, in particular left-wingers, was a big operation by the middle 1930s. Screenwriters would just not get jobs anymore. Until unionization success that came with wartime.
Paul Buhle
Posted on Portside's Facebook page
Re: Tribulations of the US Democratic Left  
At this point, the incipient threat of full-on American Fascism -- not call somebody you don't like on Facebook a Fascist, but the real jackbooted deal coming soon to a state near you -- means that whatever there is of an actual Left in this country needs to get its head out of its theoretical ass and form an actual and functioning Popular Front to stop it -- while it [can] still be stopped. Stop wringing your pink hats over that blubbering lout Trump and get busy now stopping DeSantis. He, and the movement he represents, is the real menace in this country.
Eleanor Roosevelt
Posted on Portside's Facebook page
Re: The Too-Large-For Life Harry Bridges
(posting on Portside Culture)  
Movies! Movies! We need films and or TV series about people like Harry Bridges. We have surrendered our cultural heritage to our wealthy rulers.
Charles Patrick Lynch
Posted on Portside's Facebook page
Re: What the Saudi-Iran Deal Means for Palestine, Israel, the U.S., and the Mideast  
Solid analysis but...
Don't think that Washington will simply let this pass without throwing a monkey wrench or ten into the mix. Still, well done
Rob Prince
Re: Sunday Science: Even With Quantum Entanglement, There's No Faster-Than-Light Communication  
Siegel's insistence that information cannot travel faster than the speed of light rests, to some extent, on the distinction between measuring and forcing. He says, as part of the experimental setup:
You have an observer at the destination look for some sort of signal, and force their entangled particles into either the +1 state (for a positive signal) or a -1 state (for a negative signal).
I don't see the need for this forcing, which is the step that destroys the experiment. However, I'm just curious about this. It's not my primary objection. That would be to this argument:
For many, the notion of quantum entanglement, which can be maintained even over very large distances, leads to the hope that it could someday be used for faster-than-light communication. 
But there are fundamental laws for both relativity and quantum mechanics, and even though entangled quantum states do exist and obey arcane rules, no information can ever be exchanged faster-than-light. 
As a result, faster-than-light communication doesn't occur, irrespective of what your quantum mechanical setup is. Unless something very exotic exists, faster-than-light communication isn't possible.
This simply says, "Nope, there are fundamental laws so faster-than-light communication is impossible." He does allow for the possibility of "something very exotic." Unfortunately, he, like nearly all physicists, refuse to look at the "something very exotic" with which they do all their work. Despite the effort by quanta to lead them in the right direction, physicists still have nothing to say about consciousness, which exists beyond the limitations of space and time. 
I realize I am speaking heresy here, but until physics grapples seriously with the phenomena revealed by studies of consciousness, it will never resolve the conflicts encountered in quantum physics. It's hard to see how they fail to see that quantum physics is bringing consciousness into the scientific picture. Physics still clings to its faith that consciousness is merely a byproduct of physical things happening in the physical brain. Someday, I hope the consciousness of scientists can be raised. In the meanwhile, Siegel's declaration that "there are fundamental laws," sounds like those august scientists who imprisoned Galileo for claiming the earth revolves around the sun.
Steve Leeper
Book Talk: Letters From Langston: From The Harlem Renaissance To The Red Scare And Beyond (The People's Forum)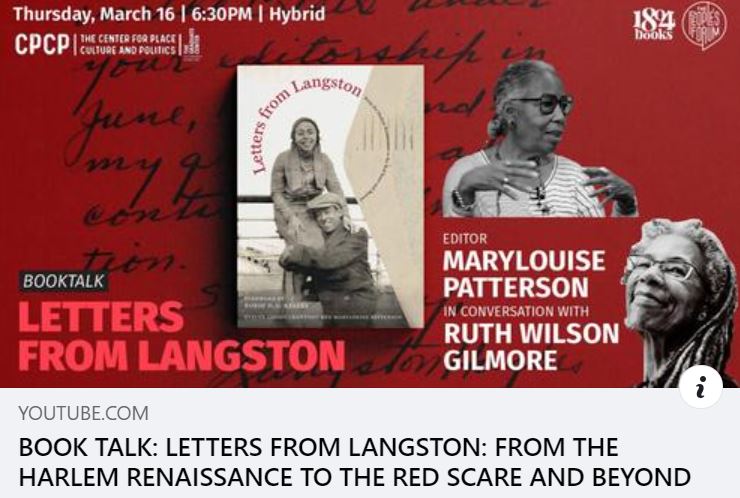 Join us for a talk with editor MaryLouise Patterson, in conversation with Ruth Wilson Gilmore for a discussion on the life and legacy of Langston Hughes and the revolutionary spirit of the Harlem Renaissance.
Langston Hughes, one of America's greatest writers, was an innovator of jazz poetry and a leader of the Harlem Renaissance whose poems and plays resonate widely today. Accessible, personal, and inspirational, Hughes's poems portray the African American community in struggle in the context of a turbulent modern United States and a rising black freedom movement. This indispensable volume of letters between Hughes and four leftist confidants sheds vivid light on his life and politics.
Letters from Langston begins in 1930 and ends shortly before his death in 1967, providing a window into a unique, self-created world where Hughes lived at ease. This distinctive volume collects the stories of Hughes and his friends in an era of uncertainty and reveals their visions of an idealized world—one without hunger, war, racism, and class oppression.
What Should U.S. Policy Towards Taiwan Be? - March 29 (Committee for a Sane U.S.-China Policy)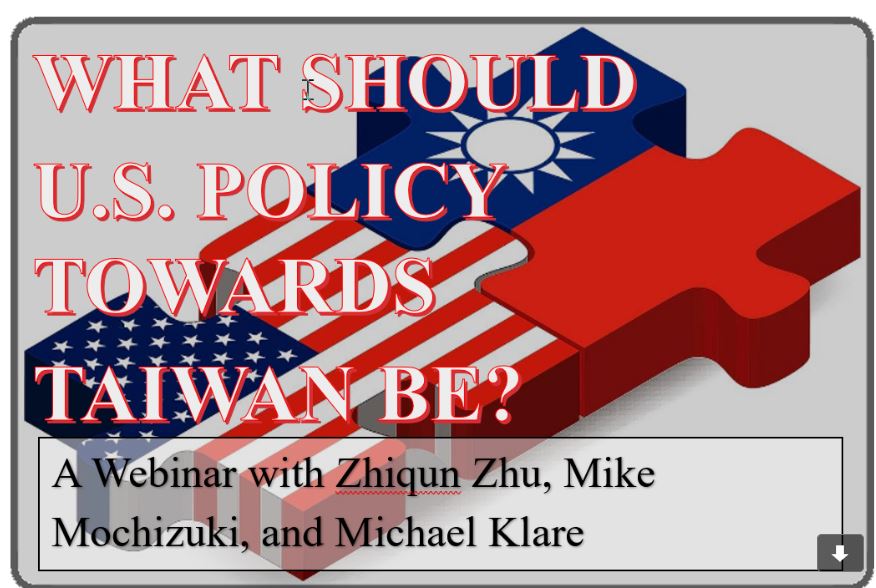 Wednesday, Mar 29, 7:00-8:30 P.M.(EDT)
What should U.S. policy toward Taiwan be? Can U.S.-Chinese military operations and tensions over Taiwan be defused? If so, how?
With the U.S. and China engaged in provocative military operations in and near Taiwan or miscalculation could trigger a catastrophic U.S.-Chinese war, very possibly nuclear, in which other nations, including Japan and South Korea, would be involved.
The Biden Administration and a confrontational Congress have undermined the "One China" policy which since 1979 has served as the foundation of U.S.-China relations since 1979. The planned visit of Taiwanese President Tsai to the United States in late March and early April is certain to further exacerbate U.S.-Chinese tensions. Meanwhile, in closing China's National People's Congress earlier this month, President Xi Jinping stressed the need for "national reunification" with Taiwan as the "essence of national rejuvenation," making Taiwan's relationship with China a primary issue for his third term in office.
Other ways are possible. Join China scholars Zhiqun Zhu, Mike Mochizuki, and Michael Klare in exploring alternative U.S. policies that we can press on Congress and the Biden Administration.
Zhiqun Zhu is Professor of Political Science and International Relations at Bucknell University. He was inaugural Director of the China Institute, and MacArthur Chair in East Asian politics. Dr. Zhu is a member of the National Committee on United States-China Relations and is frequently quoted by U.S. and international media on Chinese and Asian affairs. He is a member of the Cttee. for a Sane U.S.-China Policy's steering committee.
Mike Mochizuki is the Japan-U.S. Relations Chair in Memory at the Elliott School of International Affairs at George Washington University. Dr. Mochizuki was director of the Sigur Center for Asian Studies from 2001 to 2005. He co-directs the "Memory and Reconciliation in the Asia-Pacific" research and policy project of the Sigur Center. Previously, he was a Senior Fellow at the Brookings Institution. 
Michael Klare is professor emeritus of peace and world-security studies at Hampshire College, Co-Chair of the Committee for a Sane U.S.-China Policy, The Nation's defense correspondent, and senior visiting fellow at the Arms Control Association in Washington, D.C. He is the author of 15 books, including most recently, All Hell Breaking Loose: The Pentagon's Perspective on Climate Change.
Committee for a Sane U.S.-China Policy | 4 Washburn Street, Watertown, MA 02472
HOW WORKERS WIN: Rebuilding Labor's Power for the 21st Century - May 5 (CUNY School of Labor & Urban Studies)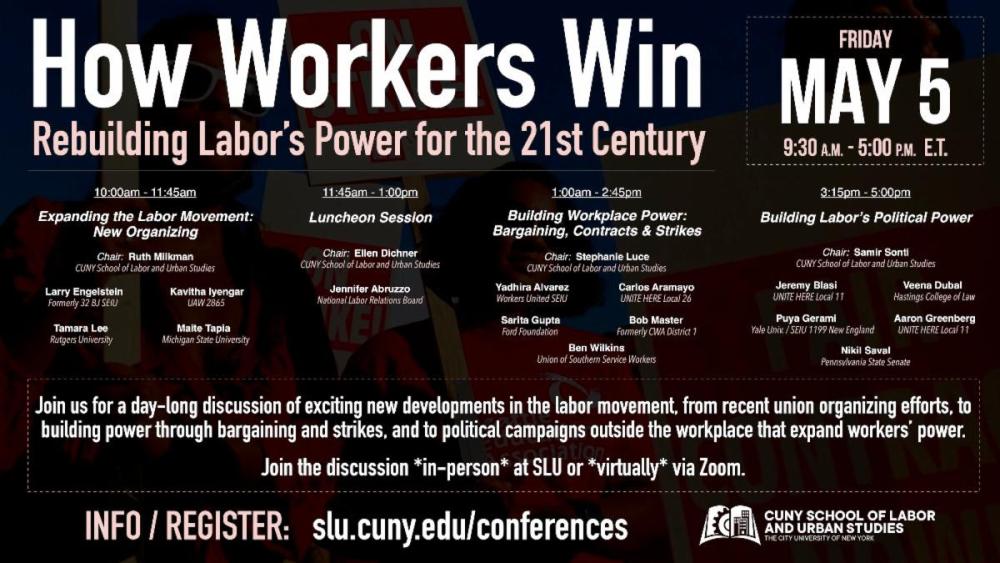 HOW WORKERS WIN:
Rebuilding Labor's Power for the 21st Century  
Friday, May 5, 2023 * 9:30am - 5:00pm E.T.  
Participate *in-person* at CUNY SLU in Midtown Manhattan 
or *virtually* via Zoom!  
Join us for a day-long discussion of exciting new developments in the labor movement, from recent union organizing efforts, to building power through bargaining and strikes, and to political campaigns outside the workplace that expand workers' power.
*** 
Click here to register. https://slucuny.swoogo.com/5May2023
Join us for a day-long discussion of exciting new developments in the labor movement. We begin the day with an exploration of recent organizing efforts and strategies to establish or expand unions in a variety of settings, including some of the largest global employers as well as sectors where organizing is spreading rapidly.  
Winning union representation is only one step towards building worker power. Beyond winning elections, workers must be able to bargain a contract and potentially engage in successful strikes. As an alternative to elections, gains can be achieved through workplace direct action. Our second panel addresses workers' efforts to build power through bargaining, contracts and strikes. 
The third panel features presentations on how workers are building political power outside the workplace itself, through legislative campaigns, policy work, and electoral programs.  
The conference also features a keynote address during the lunch hour by Jennifer Abruzzo, General Counsel of the National Labor Relations Board, who will offer her reflections on this important moment in worker organizing.
Session I:  "Expanding the Labor Movement:  New Organizing"
Chair:  Ruth Milkman - CUNY School of Labor and Urban Studies
Eric Blanc (Rutgers University):
"Do-It-Yourself Unionism: Its Rise, Tensions, and Lessons"
Larry Engelstein (formerly SEIU 32BJ):
"The 32BJ Experience: Organizing Low-Wage Service Workers, Raising Wages and Expanding Benefits
— the Role of Market Strategies and Institutional Power and Resources"
Kavitha Iyengar (United Auto Workers):
"Revolutionizing Higher Education Organizing: How New Organizing and Striking Changed an Industry"
Tamara L. Lee (Rutgers University) and Maite Tapia (Michigan State University):
"Worker Organizing in Response to Racialized Employment Practices at Amazon"
Luncheon Keynote:  Jennifer Abruzzo
(General Counsel, National Labor Relations Board)
Chair:  Ellen Dichner - CUNY School of Labor and Urban Studies
Session II: "Building Workplace Power:  Bargaining, Contracts and Strikes"
Chair:  Stephanie Luce - CUNY School of Labor and Urban Studies
Yadhira Alvarez (Workers United, SEIU):
"Winning at the Bargaining Table: Lessons for New Organizing"
Carlos Aramayo (UNITE HERE Local 26):
"When We Strike, We Win? Reimagining the Strike for the Twenty-First Century"
Sarita Gupta (Ford Foundation):
"Organizing for a Better Democracy through New Models of Collective Bargaining"
Bob Master (formerly Communication Workers of America - District One):
"Rethinking the Strike:  Labor's Most Powerful Weapon"
Ben Wilkins (Union of Southern Service Workers):
"Whatever It Takes: Building the Union of Southern Service Workers"
Session III:   "Building Labor's Political Power"
Chair:  Samir Sonti (CUNY School of Labor and Urban Studies)
Jeremy Blasi and Aaron Greenberg (UNITE HERE Local 11):
"Organizing L.A.:  Power and Politics in Los Angeles's Tourism Sector and Beyond"
Veena Dubal (Hastings College of the Law, University of California):
"Organizing Against Data Extraction at Work:  Lessons from the On-Demand Economy"
Puya Gerami (Yale University / SEIU 1199 New England):
"Building Strategic Alignment at the State Level:  A Case Study from Connecticut"
Nikil Saval (Pennsylvania State Senate):
"Organizing and Elections: Reflections on the Inside-Outside Strategy"
CUNY School of Labor and Urban Studies
25 West 43rd Street, 18th Floor, New York, NY 10036