Tidbits - April 16, 2015 - Chicago election; Police Killings; Prisons; Jewish Anti-Zionism; Charter Schools; Cuba; Culture...more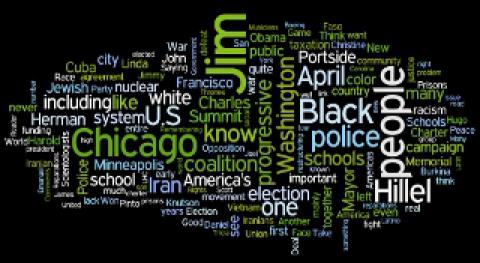 Tidbits - Reader Comments and Announcements - April 16, 2015,Portside
Re: Emanuel Won the Mayor's Race, But Progressives Won the Election
The progressive coalition achieved a lot, but real political change requires spending rules in campaigns at all levels. Corporations and rich business men should not be able to literally "buy" elections with their money. The new reformers elected in Chicago should try to achieve this so that next time they win the mayoralty position.
Laurel MacDowell
     ====
The Chuy Garcia for Mayor Campaign lets the Democratic Machine know that the people will rise up again and again...in the spirit of Harold Washington!
Steve Butler
Posted on Portside's Facebook page
     ====
Color Blindness in the Age of Escalating Racism
The three analyses of the Chicago Mayoral election by Amisha Patel, John Nichols and Thomas A. Corfman (Portside April 9, 2015) are remarkable mainly for what they don't say. They accurately describe the coalition around the progressive candidate, Jesus "Chuy" Garcia, as grassroots, including very important large industrial unions such as the Teachers, Transit Workers, and Service Employees. They note the historic quality of this coalition. But by their omissions they endanger the very coalition they are proclaiming.
Throughout the election campaign, and in these analyses, you would never know that Chicago is a city in which over half the population suffers under virtual military occupation. if you only listened to the pundits and the candidates, you would never know that
Chicago has a rate of racial profiling and "stop and frisk" incidents by police that far exceeds that of any other city in the country, including New York, according to a study by the ACLU.
Since 2007 in Chicago 121 people have been murdered by Chicago police, and that 93 per cent have been people of color.  That's the official count; the actual number is thought to be much higher.
Cook County Jail is the largest prison or jail in the country, and 85 per cent of the inmates are Black or Latino.
The Chicago Police have been exposed as maintaining a secret torture center on the West Side, where suspects are kept incommunicado, off the books and out of sight by anyone except the police, and where at least one suspect has died.
You would also never know that there have been mass protests all over the country, including Chicago, by Black, Latino and white people, mainly youth, demanding justice and an end to police crimes.

Only Nichols even mentions race, and that is in a wistfully recalled quotation from the late Mayor Harold Washington: "We are a multiethnic, multiracial, multi-language city and that is a source of stability and strength." In his first campaign, Nichols notes, "Washington simply had to pull together a coalition of African-Americans, Latinos and liberal reformers. But it didn't happen." It didn't happen in Chicago in 2015, either, but this time no one even talks about it.
It is not enough to observe (as none of these observers did) that such a Washington coalition did not emerge in the most recent election. It is more important to observe that the progressive coalition in this election and these liberal observers act as if there was no issue of white supremacy and racism  in Chicago at all. It's the classic unmentioned elephant in the room.
Is this just accidental blindness, or is it a conscious refusal to talk about the single most important issue that prevents a solid coalition of progressive forces from emerging in this city? No one can know what goes on in the minds of these deep thinkers. But I am beginning to think that it's a willful refusal to deal with reality more than an inability to see.   But why?
At least one leader of this movement, when confronted with the horrors of the police violence that is wreaking havoc among families in the city's Black and Latino communities, and the nation-wide mass upsurge against it, responded that "these people don't vote, but white people do." The meaning was clear - white people can't understand this issue, and to raise it jeopardizes the progressive coalition.
This is not only morally bankrupt. It is historically wrong.  The fight against racism has motivated people of all colors, including white people, in the U.S. many times. This fight was at the heart of every progressive advance, whether it was the defeat of the old slavocracy in 1865, the defeat of Nazi Germany in 1945, the defeat of Jim Crow in 1965, the election of Harold Washington in 1983, or the defeat of apartheid in 1991, to name just a few of these historic victories. Black people and the struggle against the oppression of Black people, led by Black people, played the most important role in the United States in all these victories. The failure to recognize this historic reality has been, and will always be, the Achilles heel of the progressive movement in our country.
The election of Harold Washington in 1983 was first of all a rejection of the racist policies and arrogance of the incumbent Mayor Jane Byrne and her "regular" Democratic Party challenger, Richard M. Daley. It was mainly a campaign against racism, which was skillfully organized as a campaign for basic fairness by Harold Washington. This was something that united the Black community first and foremost, and won over majorities of Latinos and progressive whites. It was championed by the Left, which understood the centrality of the struggle for Black freedom in the United States. But this was missing in the 2015 campaign, even though the level of racism and racist repression in the city has grown since the untimely death of Mayor Washington in 1987.
Marx said that history repeats itself, the first as tragedy, then as farce. When will those of us who are not Black ever learn?
Ted Pearson
Posted on Portside's Facebook page
Re: In March Alone U.S. Police Killed More Than 100 People
Higher dead rate than that suffered by US troops in Iraq, Afghanistan combined.....
It's been 31 days since the release of the White House Task Force on 21st Century Policing report, but already the number of fatal police encounters is over 100. More than three people were killed by police each day in March in America. Too many of last month's victims fit a profile we know all too well - many unarmed men of color, some with psychiatric disabilities. This isn't a problem of a few rogue police departments; this is a systemic national crisis.
Francisco Gonzalez
Posted on Portside's Facebook page
Re: How to Destroy a Black Life: A Step-By-Step Guide
What I have not seen addressed is how this could have gotten by a coroner. Multiple bullet wounds from the wrong angle? Apparently the entire system is rigged for a coverup.
William Trent Pancoast
Posted on Portside's Facebook page
     ====
Let us be honest , getting captured on film was the only "mistake" police officer Michael Thomas Slager made when he killed Walter Scott. Otherwise, he did everything by the book, and likely would never have been charged.
Kathrin Raab-Questenberg
Posted on Portside's Facebook page
Re: Reparations and a Conversation about America's Redemption
Think Rosewood, Florida. Think Greenwood (Tulsa) Oklahoma. Think of Overtown , Miami Florida... Where ever Black capacity demonstrated its immense possibilities of achieving social, economic, cultural equality, white supremacists systematically set about to annihilate, obliterate and obfuscate any empirical evidence of these remarkable achievements despite dire obstacles set up against them. Why? Because demonstrated Black capacity proved the false conceit of white race supremacy. Supremacists by definition must not only physical destroy these living monuments by terrorist means, they must likewise obliterate the narrative. Telling the narrative is criminalized, literally. Supremacist can thus maintain and preserve their economic advantages.These are the fundamentals of capitalism. Maintaining economic control and power requires suppressing insurrections with counter revolutionary terrorist tactics. Any discussion of the "whys" of monetary reparation demands this understanding. Let the discussions and debate begin and continue. Let the redemptive healing begin.
Larry Aaronson
Posted on Portside's Facebook page
     ====
They should include Native Americans !
Aaron Lipson
     ====
On The West Wing, in Season 1, Episode 18, Six Meetings Before Lunch, Josh Lyman has a conversation with Jeff Breckenridge about slavery reparations. Great episode....Also, in addition to money for reparations: how about we get the police to stop shooting black citizens? That would be a good start.
Christine Turel
Posted on Portside's Facebook page
Re: Boycott, Divest and Sanction Corporations That Feed on Prisons
Interesting facts and concerns raised here
Central and Southern Africa Yearly Meeting - Quakers
Posted on Portside's Facebook page
     ====
No joke. Prison phone privileges cost big bucks
Linda Read
Posted on Portside's Facebook page
     ====
For profit prisons are unacceptable.
Jim Katakowski
Posted on Portside's Facebook page
     ====
We spend a lot more money when we put people in jail then to educate them. This is a major serious problem.
Dalia L Tapia
Posted on Portside's Facebook page
     ====
Profit-making prisons should be reserved for financial criminals.
Geri Henze
Posted on Portside's Facebook page
Re: The Jewish Establishment has Banned these Four Valiant Jews. Why?
I am one of the Civil Rights Movement veterans that Hillel will not allow to speak at its university venues.  But Hillel is paying a big price.
Only Harvard Hillel allowed us the right of free expression, with severe limitations.  Even this was too much for the national Hillel, and they would not permit sponsorship at any other school.
Well, Open Hillel, the progressive group that has invited us to tour, arranged for alternative campus venues, and this worked quite well.  Additionally, the president of one Hillel chapter resigned from Hillel in protest, and the entire chapter of another Hillel withdrew from Hillel altogether and formed a new organization.
Hillel tried to counter our tour by organizing its own tour of Civil Rights Movement veterans.  To my knowledge this did not materialize, and not only because 2 of these veterans are not at all sympathetic to Hillel's stifling.
Open Hillel is a wonderful group of college students, and the establishment Hillel might do well to learn from them.
There will never be peace for the Jews until there is justice for the Palestinians.  Either we will live together or we will die together.
Ira Grupper
Louisville, Kentucky
Re: In Boeing Plant's Union Election, Machinists Face Heavy Opposition From South Carolina Elected Officials
(posting on Portside Labor)
Just like at VW. Mayor and Governor in South Carolina spreading lies right before workers vote on unionization.
UAW Region 4
Posted on Portside's Facebook page
Re: Hipsters for Charter Schools: The Big Lie "Togetherness" Tells About Race and Education
"We should all be very, very concerned with the type of "togetherness" we are being sold here.
I invite my fellow citizens of Eagle Rock - the entire, real community - to work together to save our neighborhood public schools."
Shawna McKellar
Posted on Portside's Facebook page
     ====
I generally agree and am anti-charter as it siphons off resources from real public schools. But there are some charters here in NYC communities of color that have been formed, largely by faith communities that are a response to the lack of community control and the failures of the public school system. They are few and far between and lack the hedge fund power of those like Success Academy. But they don't deserve to be painted with the same brush.
John Magisano
Posted on Portside's Facebook page
     ====
This is exactly the dilemma I have regarding the charter schools in California. There are a couple of really good ones, but it's because of the committed professionals who are trying to provide educational opportunities for children of color, lacking in the San Francisco public school system.
Furaha Youngblood
Posted on Portside's Facebook page
     ====
That's for sure! My son teaches at a high school in Brooklyn. His students are not white, privileged high income kids! They're kids that would end up in gangs, uneducated in the public schools! The charter schools here in Nashville are populated by kids from a lottery. Admittance to the lottery is based on test scores, not skin color or social standing.
Linda Hostetler Jacquemain
Posted on Portside's Facebook page
     ====
O.K.!! I like my truth unvarnished! This guy put into words the vague uneasiness I've been feeling as I watch and listen to the Charter school movement. All the while I'm married to a career educator and have done substitute teaching in an urban school district. I see and hear what happens. EXCELLENT ARTICLE!
Charles Wyatt Jr.
Posted on Portside's Facebook page
Re: The Real Thing: An Anti-austerity European Government
Please post this related to Jamie Galbraith's report on Greece
Peggy Dobbins
Re: Dispatches from the Culture Wars - Here come the holograms edition
A fascinating cross between art and protest from Spain Just amazing. Trust me. It feels like something completely new. Understanding Spanish helpful but not required. Thanks to Jennifer Baker for the story and to Portside for the link.
First Hologram Protest in History Held Against Spain's Gag Law
Daniel Millstone
Posted on Portside's Facebook page
     ====
A spectre is haunting the world -- or an increasing number of them, it would seem.
Chris Lowe
Portland, Oregon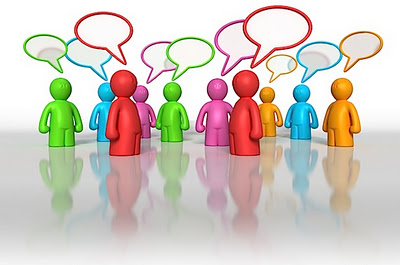 Re: Castro Remarks at the Summit of the Americas
Many thanks to Portside for distributing this.
Jim Soliz
Posted on Portside's Facebook page
Re: Cuba's Coming Out Party at the Summit of the Americas
At last a valid assessment of Obama's opening to Cuba. The solidarity of Latin America with Cuba forced Obama. There would have been no 8th Summit, and the world would have known it why.
Nina Udovicki
Re: Obama Could Face Another Disastrous Summit Due to Sanctions Against Venezuela
Good article. Good history of events of the past few years in Colombia, Honduras and Mexico. We supported a coup in Honduras and terrible actions taken by the Mexican and Colombian governments resulted in a yawn from Washington. But Venezuela needs sanctions? What does the 'opening' to Cuba really represent?
Jim Price
Posted on Portside's Facebook page
     ====
And the Cuban blockade (which has not ended) is against 10 million individuals. All sanctions are against persons. That is the evil truth the administrators of them do not want you to figure out.
Lynn DeWeese Parkinson
Posted on Portside's Facebook page
Re: America's 30-year Cold War with Iran: Manufacturing A Good Adversary
It actually began in the 1950 with the overthrow of a left leaning Persian government assisted greatly by the CIA.
Mahdi Ibn Ziyad
Posted on Portside's Facebook page
     ====
Exactly. The original sin was ours, not Iran's.
Elizabeth Ferrari
     ====
Are there sources for this article?
Christine Elliot
Posted on Portside's Facebook page
     ====
[Moderator's Note: The link to the original article in the Washington Spectator has URLs and sources for the points, examples and instances. Here is the URL - http://washingtonspectator.org/manufacturing-a-good-adversary-in-tehran/. Portside always has the link to the original source at the top of all of our posts. Regrettably the URLs were not included in the posting on our website.]
     ====
...I didn't read the post. I generally avoid reading posts that seek to grab my attention by an over the top declaration. I've just now read most of the source, however, much of which most on the left are aware of. My point is quite plain: Our two leaders themselves are not attempting to do what the stark headline announces...
We, none of us, know what goes on behind the scenes with these things, but I'm taking away from blogs and news sites that there's a willingness to cooperate on the part of the Iranian president, Hassan Rouhani, which is reciprocated by Mr. Kerry/Obama. The three decade long hiatus in relations with the Iranians was begun by U.S. actions and Iranian reactions an historical religious facts on the ground in the Persian country. The succeeding presidencies/congresses/war mongers have indeed kept it going, but I don't think it's absolutely true that President Obama and Secretary Kerry wish to continue in the same manner.
Janet Norris
Posted on Portside's Facebook page
     ====  
History can be enlightening for some and a millstone for others.
Barbara Tutor
Posted on Portside's Facebook page
     ====  
Possibly but I think you are underestimating NATOs concerns over a globally active Russia.
Whether the narrative continues it quite honestly serves both parties. While talks like these leave the door ajar for possible future cooperation against other extra-regional powers exerting their influence in Iran's purported sphere of influence.
Carl Badgley
Posted on Portside's Facebook page
Re: The Iranian Nuclear Dear: What the Experts Are Saying
It's a question of the haves ganging together against the have nots.Then there is the presumption that only the haves posses the moral right to be the custodians of nuclear technology. When one looks at the conflict records of the haves then it becomes clear that this presumption is absurd.Why should any sovereign state have their technological competence curtailed and capped by a cabal of rogue states.We need to re-examine the status quo and our mindset.
Nazier Ahmed Karjieker
Posted on Portside's Facebook page
     ====  
If there is a war, let ONLY the conservatives on both sides fight it.
John Maldonado
Posted on Portside's Facebook page
Re: Will the Senate Kill the Iran Deal and Take Us Into Another War?
The problem with this analysis is that it presents the Obama administration's PR version of the agreement as fact when the French and the Iranians say the terms of agreement were very different. Since when do leftists grant blind faith to US government claims? Until we see something in writing this is buying a pig in a poke and there is no reason why the left should mobilize behind an "agreement" where we don't know the actual contents.
Stan Nadel
Re: Netanyahu Slips, Reveals Reason for Opposition to Iran Deal
Although I agree with your sentiments; however , Iranians are not Arabs.
Ned Francis Nasr
Posted on Portside's Facebook page
     ====
Iranians are Persians not Arabs.
Sarah Bishop Valentine
Posted on Portside's Facebook page
     ====
And quite frankly I think he wants there to be a continuing threat from Iran because he thinks that benefits him politically in both Israel and the U.S. Take away the threat and what has he got left?
Marc Lowenstein
Posted on Portside's Facebook page
Re: Burkina Faso: Liberation not looting
Inspiring piece on the ongoing movement for liberation and a great discussion on the role of parasitic nonprofits.
Lisa Husniyyah Owens Pinto
Posted on Portside's Facebook page
     ====
When Humans Realize That They Rule The World, And Not Just Government Leaders, We Get An Extraordinary Revolution. WAKE UP WORLD!
Daniel Joel Pinto
Posted on Portside's Facebook page
Re: Guatemalans Deliberately Infected With STDs Sue Johns Hopkins University For $1bn
On the surface this seems to be similar to the deliberate non-delivery of treatment for experimental purposes of some Black U.S. males years ago who had syphilis. My memory about this may not be exact, but  I am sure that my recall is reasonably accurate.
Jim Lucas
     ====
Who was responsible for this criminal enterprise and was he  or they punished? This is the type of  "medical" experimentation that Mengele performed for the Nazis
Dean Pappas
Re: America's Billionaires Owe You a Thank You
Thank you Portside!
This is one topic with which I am 100% in agreement with.
Our current taxation system is so full of loopholes and absurd layers of complexity which ONLY favor the rich and powerful that it is essentially beyond repair.  It is among the most complex and inefficient taxation systems on the planet.
My sadness at this juncture is that there is one potential candidate who not only gets this, but is quite vocal about her vision for completely restructuring this taxation system, Elizabeth Warren . . . but alas, she has repeatedly stated she does not want to run for president.
She would have my vote in a nanosecond.  I would pound pavement, spend endless hours on a phone, whatever it took.
She gets it.
Having said that, if this absurdly dysfunctional taxation system can't be fixed, I don't see any real change coming, at all.
Furthermore, a fundamental restructuring of the taxation system would have to be implemented in correlation with a complete restructuring of lobbying regulations, reversal of "personhood" status for corporations, and campaign funding.
Is this even possible?
That is the question . . .
Charles Osterman
Sebastopol,  CA
Re: The Angelina Effect Should Be: Know Your Cancer Risk
Ok.  Got it.  Now how about we demand REAL public funding for cancer research and prevention programs for cancers that particularly impact women, especially women of color?  No more bullshit privatized funding and/or lack of funding that makes those of us women living with cancer in our bodies (known or unknown) supposedly powerless self-inflicting victims.
Leanna Noble
Re: Why So Many Celebrities are Scientologists: "Going Clear", Revealing New HBO Doc, Holds Clues
(Posting on Portside Culture)
Why would stars want to give ideal blackmailing material ?
Charles Brown
Posted on Portside's Facebook page
     ====
Ahhh! Saw the documentary; this makes sense.
Ernest R Valdes
Posted on Portside's Facebook page
     ====
They aren't "stars" at the time, Charles.. they are green young adult actors who see a cohesive, supportive group with industry ties
Suzanne Terry
Posted on Portside's Facebook page
Re: Game of Thrones and the End of Marxist Theory
(posting on Portside Culture)
like karl marx said when we hang the last capitalist there will be a big fight to see who gets to sell the rope
Roger Zwieg
Posted on Portside's Facebook page
Re: George RR Martin Says Rightwing Lobby Has 'Broken' Hugo Awards
This is a worthy read on how excessive politicization threatens to render the Hugos meaningless.
Derek Werner
Posted on Portside's Facebook page
     ====
Weird tales from the dark side: Right-wingers hijack Hugo because sci-fi should glorify war, not project dystopian future that's already here.
Doug Vaughan
Posted on Portside's Facebook page
     ====
Fine on the craven blackguards....for shame...
Jess Saying
Posted on Portside's Facebook page
     ====
Aaah, let's play nicey nicey boys. There's always next year
Tricia Scott
Posted on Portside's Facebook page
Re: As Encryption Spreads, U.S. Grapples With Clash Between Privacy, Security
Well stop electing people like Feinstein, Bloomberg, Hillary, McCain. Police are servants but are controlled and run by elected officials. These elected officials dictate what laws to enforce and in places like NYC, Chicago, LA, San Francisco, St Louis the focus is on revenue generation.
Take NYC the subway is old and paid off so why even charge for it?
In Chicago Mayor Daley, and Mayor Emmanuel have outsourced parking meters to private companies losing tons of revenue for the city.
Jesse James
Posted on Portside's Facebook page
Re: Economic Inequality: It's Far Worse Than You Think
The Story of Class Struggle, America's Most Popular Marxist Board Game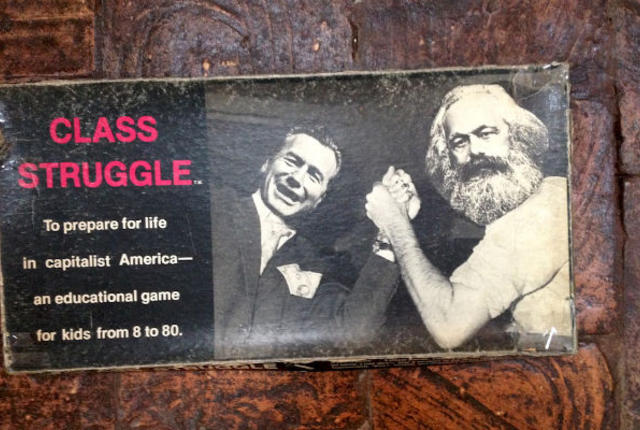 The box for the Class Struggle board game features Karl Marx arm-wrestling Nelson Rockefeller. They're using their left arms, so of course Marx is winning. Inside the box, a pile of Chance Cards includes messages such as "You are treating your class allies very badly" and "Your son has become a follower of Reverend Moon." The ultimate goal of the game is to avoid nuclear war and win the revolution.
    When the game was released in 1978...
Read more here.
Viola Wilkins
Re: Veterans For Peace: Memorial Day Event
1965 is NOT the fiftieth year anniversary of US involvement in Vietnam. It may mark the date of the greater buildup, but the US was involved in Vietnam, with "advisors" and CIA spooks as early as the early fifties, as depicted in Graham Greene's novel The Quiet American, and as documented in a nonfiction book Vietnam and The War: A Documented History, edited by Marvin Gettleman, Jane Franklin, Marilyn Young, and H. Bruce Franklin. published in 1985 by Grove Press. This book consists entirely of various documents from the war including documents from the early fifties when Americans were engaging in various machinations in Vietnam.
It is VERY important that people know this. Obviously the Pentagon is going to try palm off an official government version as part of the ongoing whitewash of what actually happened and when it happened.
Ernie Brill
Re: Welcome to San Francisco! - The Jimmy Herman Memorial at Pier 27
Or, as the shippers called him, "Herman the Vermin, the Minion of Moscow". One of my first encounters with Jimmy Herman came when about 15 of us, led by Terrence "Kayo" Hallinan, were picketing one of the docks in Oakland, protesting shipments of scab grapes being loaded there. Herman came barreling up in a huge "boat" of an American car, leapt out, and stormed up to Kayo. "YOU'RE RON McGOON AND YOU AND THESE FIFTY PICKETS ARE THREATENING MY MEN?" he bellowed, so everyone around including the cops and some longshoremen could hear. "Yessir, Mr. Herman," answered Kayo, trying to keep a straight face. Jimmy had known him since he was in diapers I believe, and despite his coke bottle glasses, Herman knew exactly who he was dealing with. "WELL, THIS IS A DANGEROUS SITUATION AND WE CAN'T WORK HERE TODAY, EVERYBODY OFF THE DOCKS!" He had style.
Jack Radey
Posted on Portside's Facebook page
Please spell out complete names in a title.  Excuse my ignorance, but I didn't know what LHC stood for.  If you want to educate people it's best not to make assumptions.
Phyllis Mandel

James H Knutson, aged 71 of Minneapolis, passed peacefully April 2 from leukemia at home surrounded by family and the arias of Leontyne Price. He is survived and loved by wife April, daughter Katrina (Ty Yule), son Kieran (Tricia), grandsons Sasha and Kaelan, sisters Jan, Linda, Kathy (Steve), brother-in-law Joel (Pat), sister-in-law Julie and many nieces, nephews, cousins, friends, and comrades.
Born in Stevens Point WI, and raised in Green Bay WI, Jim was the grandson of Scandinavian immigrants. His father was a railroad worker and veteran of WWII. His mother was a strong and smart woman who taught him the joys of reading. He was a survivor of two brain surgeries and lived with epilepsy his entire adult life.
Jim was a musician and lover of music. He sang in church youth choir, played in high school band (including for Packers half-time shows) and later performed guitar and sang on streets and nightclubs in Europe and the Middle East. Jim was later a regular performer at Movement events in the U.S. Jim and April were strong supporters of the Minnesota Orchestra (and their Musicians Union).
Jim was a world traveler. In his 20's he hitch-hiked, washed dishes, and played his guitar through many cities in Europe and the Middle East. Like so many of his generation Jim was influenced and inspired by the Civil Rights and anti-Vietnam war movements. He participated in many struggles for peace, justice and equality over the years including campaigns to Impeach Nixon, Free Angela Davis, and against nuclear power. Jim was a major organizer against the 1982 closing of Minneapolis Central High School and other schools, and the imposition of reactionary programs on other schools. Jim ran for Minneapolis School Board in the early 80's with the backing of the Farmer-Labor Association. Jim was a member of the Communist Party USA for 20 years - leaving over lack of internal democracy and other issues in 1991 but remaining an advocate of socialism. Jim worked as a computer operator, mainly 3rd shift, at World Book Encyclopedia in Chicago, Pako Industries in Golden Valley MN (laid off during the Reagan Recession) and finally at the Star Tribune where he retired in 2006.
Jim deeply loved and admired his wife April, and his family, who shared his commitments to social justice. pitched in to do childcare for his grandkids and got to walk his daughter down the aisle weeks before he passed. We loved him much and will miss him greatly.
Memorial Service Sat Apr 18th 5:00pm Walker Community United Methodist Church, 3104 16th Ave S, Minneapolis, MN 55407.
In lieu of memorials, donations may be sent to The Musicians of the Minnesota Orchestra, Twin Cities Musicians Union, Local 30-73 (708 N 1st St #CR 31, Minneapolis, MN 55401).
Published on April 5, 2015 in the Minneapolis Star Tribune.
Building a Peaceful World - Ending U.S. Militarism - New York - April 23