Tidbits - November 6, 2014
Tidbits - Reader Comments and Announcements - November 6, 2014,Portside
Re: Progressives Win in Richmond, California, Fending off Chevron Money (Leota Shimabukuro, Tom Gogan)
Re: Blocking the Youth Vote in the South (Aggie Saldana-Sanchez, Lexa Stewart McAdams, Tomas Benitez)
Re: With US Women Soon Eligible for Combat, the Draft Could Be Next (Linda Gilcreast, Amy Carter Bozick, Judith Johnson, Chris Henricks, Kristen Wack, Blarchie Unker, Michelle Akers, D.J. Garcia, Suzanne Fast, Camilla Cracchiolo)
Re: Twelve Nobel Peace Laureates Call Upon Obama For Full Torture Disclosure (Alberta Maged, Kim Scipes)
Re:Chief U.S. Ally in War on ISIS Conducts 61st Beheading of 2014 (DL, Judith, Kenneth Sullivan, Rob Prince)
Re: Mississippi, Burned How the Poorest, Sickest State Got Left Behind By Obamacare (Jeff Stangel Dickens)
Folk music greats to honor David Amram's life, Pete Seeger's legacy in concert - Long Island (NY) - Nov. 20
Re: Election Day Alert: When Democracy Broken, Progress Impossible
It is not just that the political process is in trouble and with it democracy, it is also that American society is falling behind. You still are hung up on abortion, guns, and public health care while other democratic countries have moved on and are trying to deal with economic problems, better education and environmental issues, particularly climate change. We still look to the U.S. to lead but it is impossible for you to do that when your political system is in gridlock, when your political spectrum is so right wing, and inequality in your system is so rampant. It is not enough to say poor people and young people should rise up for democracy. They don't have money or time or the expertise. It is up to all Americans to look at what has happened and take responsibility, or it really will be the decline and fall of the American empire. Your companies and rich men, like Donald Trump for example, are using their huge economic resources to wreck the political system and gain more money and power. It is absolutely irresponsible. I wouldn't expect the mainstream media to comment, but there are many other ways to communicate these days and there should be some very frank discussions about what has happened and why. Eventually the argument goes as you get more minorities that support the Democrats, the Republicans will decline especially the far right Republicans, but don't be too sure. Because the gerrymandering that they have gotten away with will continue and with no curb on election spending, the attack ads will keep spreading their viciousness.
It is a sad state of affairs and very disappointing for Canadians and Europeans who have such close ties with the United States, admire the country, and always hope that things will get better. We overwhelmingly supported Obama's election because we thought that might be the start of a better time. But the Republicans have fought him tooth and nail from day one. And now it is just sad what has happened. Many of us just could not watch the returns because we knew what had happened; it has happened so many times before and is so wrongheaded if the country is to move forward.
As for Obama I hope he keeps sending progressive legislation and progressive appointments to Congress and as they get shot down I hope he keeps showing the public the effect of the voting yesterday. Maybe people will start to wake up! But I won't hold my breath.
Laurel MacDowell
Toronto. Canada
Re: Progressives Win in Richmond, California, Fending off Chevron Money
ahaha! WAY TO GO, RICHMOND!!!!!
Leota Shimabukuro
Posted on Portside's Facebook page
     ====
Truly progressive in every sense.  And in particular for the politics  of progressive sanity, people of different progressive persuasions COALESCING and winning together.  So unlike what we have here in NYC.
Tom Gogan
Re: Welcome to the Great Liberal Hangover of 2014. Will Anything Make it Go Away?
Regarding "Great Liberal Hangover": Democrats can't lose if voter turnout exceeds 50%. Republicans can't lose if voter turnout falls much below that. Average turnout in this election was under 40%. Average voter age was +45. Republicans couldn't lose. The majority who could make a difference are depressed and disillusioned by the president's disconnectedness with his former supporters and the Democratic party's mechanical and disingenuous attempts to push "wedge" issues like the so-called war on women. Big question: is the Democratic Party capable of inspiring anyone anymore?
David Worley
So the Working Families Party got enough votes to stay on the ballot (which I am happy about though I voted Green). while their vote toals went down, but the Greens got on the ballot with over 150,000 votes. So what does that say about WFP's continued support of Cuomo? Maybe they ought to reconsider what being "principled" means - because where do you think many of their old votes went? (Hint: think of a certain verdant color.)
Mike Glick
Posted on Portside's Facebook page
Re: Blocking the Youth Vote in the South
People are so scared because minority will be the majority soon. They are trying so hard to take the nation back to before women and minorities vote. Make the difference and vote.
Aggie Saldana-Sanchez
Posted on Portside's Facebook page
     ====
They're our future ... gotta move forward ... because going back is NOT an option no matter how badly some want to go back.
Lexa Stewart McAdams
Posted on Portside's Facebook page
     ====
Treason. keeping Americans from voting is treason, there is no other word.
Tomas Benitez
Posted on Portside's Facebook page
OFTEN ALL IT TAKES TO BE REMOVED FROM THE VOTING ROLLS IS TO SHARE A FIRST AND LAST NAME WITH SOMEONE IN ANOTHER STATE (IN 27 STATES.)
such as:
Kevin Antonio Hayes of Durham, North Carolina, is a match for a man who voted in Alexandria, Virginia, as Kevin Thomas Hayes.
John Paul Williams of Alexandria is supposedly the same man as John R. Williams of Atlanta, Georgia.
Robert Dewey Cox of Marietta, Georgia is matched with Robert Glen Cox of Springfield, Virginia.
Diane Laison
Posted on Portside's Facebook page
     ====
get outta here!!!!!!! ridiculous!!!! even with a valid ID????
Cici Pennington
Posted on Portside's Facebook page
     ====
Jim Crow never left. He just re-surfaced in a more subtle form.,
Jeanne C Majors
Posted on Portside's Facebook page
Re: Toni Morrison and Angela Davis on Friendship And Creativity
Loved reading and being inspired by this interview.
Mary Jo Comerford
Posted on Portside's Facebook page
Re: In Cold War, U.S. Spy Agencies Used 1,000 Nazis
Thank you for this e-mail.  Hollywood is trying to rewrite history on this matter by depicting the U.S. Army as being anti-Nazi.  In the recent film, "Fury" Brad Pitt machine guns a Gestapo officer who surrenders his force which consists of recruited children.  Any Germans who cooperate with the American are killed.  Going into a city the film shows children hanging from lamp posts who refused to cooperate with Gestapo.  It should be noted that Paramount Studios has diversified into drone production and is trying to depict drone warfare in a positive light. Peace,
Mark Bailey
Re: The Syrian Labyrinth, Book Review
'Twas from the likes of Reese and the Oakland 7, that I remain forever opposed to US Draft and fighting wars of US aggression. Cheers to Reese. I heard some of his talk recently about this book, on KPFA.
Phyllis Mandel
Posted on Portside's Facebook page
Re: With US Women Soon Eligible for Combat, the Draft Could Be Next
As an 'end the draft' person in the sixties, I had no idea ending the draft would so undermine the anti-war movement.
Linda Gilcreast
Posted on Portside's Facebook page
     ====
Hey, pro-war people! Put this in your pipe and smoke it...
Amy Carter Bozick
Posted on Portside's Facebook page
     ====
Not really seeing how advancing the cause of US Imperialism is advancing equality...Reinstate the draft now!
Judith Johnson
Posted on Portside's Facebook page
     ====
Expendable assets to the oligarch's army. They use all of us at their pleasure.
Chris Henricks
Posted on Portside's Facebook page
     ====
You want to revive the anti war movement, reinstitute the draft. I dare them.
Kristen Wack
Posted on Portside's Facebook page
     ====
An all volunteer army only has people who are pro military and pro war. If there had been a draft during the Bush years there would have be a push against the war by the public. Moving to an all volunteer army seemed like the moral thing to do but in reality it was a strategy to end dissent and the anti war movement.
Blarchie Unker
Posted on Portside's Facebook page
     ====
I think it's more like, "An all-volunteer army largely has people who had so little other economic opportunity that they reckoned it was the military or McDonald's."
Michelle Akers
Posted on Portside's Facebook page
     ====
There is something in the works right now, where student loan debt will be forgiven to those who get a "gov job". I bet that job will include boots, a rifle and fatigues. I guess you'll get a choice, 10 years in jail or 2-4 years of service. No draft needed.
D.J. Garcia
Posted on Portside's Facebook page
     ====
It's been almost 40 years since there had been a draft in the US. The military took the position that as the technology used by front line troops increased, they needed a professional army, and that massive mobilizations were unlikely to be helpful in contemporary warfare. For good measure, the structures of power have had no problem producing a sufficient supply of people for whom the military is an economic opportunity. There also seems little prospect that this country will move toward "universal" service (universal in the sense that almost everyone does it). Which leaves me wondering what the point of registering for the selective service can be? With today's over abundance of information about everyone, is it necessary? It seems to me that its only real functions today are ideological and as a mind game. I'm from that odd little cohort where men my age were *not* required to register for the selective service. It didn't last long. If registering for selective service continues, it seems likely that it will soon include women.
Suzanne Fast
Posted on Portside's Facebook page
     ====
This is not the first that they've talked about drafting women. In WWII, there was very serious discussion about drafting nurses, who back then were all women.
Camilla Cracchiolo
Posted on Portside's Facebook page
Re: A Lesson Plan for A+ Teachers
(posting on Portside Labor)
I was very surprised to see an article by Joel Klein on Portside, especially on Portside Labor.
Most New York teachers have a very low opinion of Joel Klein  - he was Bloomberg's hatchet-man in destroying New York City public schools - in the pre-Arne Duncan era. Joel Klein was the architect of bringing charter schools into buildings that previously housed public schools.
Klein was brought in to destroy neighborhood schools, remove experienced teachers and principals.
The principals that he recruited and brought in were known as the "baby principals" - they were 25, 26 and 27, just out of grad schools, with MBAs - with minimum teaching experience.
Klein destroyed the teaching and learning aspect of education in New York City - he abolished the internal mechanisms for staff development in these fields
The assault on music, art and libraries in New York City public schools was orchestrated by Joel Klein.
Klein is now one of Rupert Murdoch's top assistants. It was Klein who sat beside the Murdoch brass in the phone-hacking scandal in Britain. They should all be in jail.
Jay Schaffner
Posted on Portside's Facebook page
     ====
What?
Michael Klonsky
Posted on Portside's Facebook page
     ====
If he has anything to do with Murdoch why is Portside validating him in ANY way?
Mike
Posted on Portside's Facebook page
     ====
When I saw it, I assumed it was to see what the other side was saying. But I confess I thought putting it up there without comment was odd.
Bill Henning
Posted on Portside's Facebook page
Re: Twelve Nobel Peace Laureates Call Upon Obama For Full Torture Disclosure
Rebecca Gordon (a friend) wrote a book re torture. Will, but haven't read yet. Heard interviews, were fascinating. Has section about torture in "front" of us, i.e., US prison system.  http://mainstreamingtorture.org/about/
Alberta Maged
Posted on Portside's Facebook page
     ====
This is important, and I hope President Obama has the good sense to listen.
Kim Scipes
Posted on Portside's Facebook page
Re: A Small Band of Activists Is Humiliating an Israeli Shipping Giant
The article distributed by Portside spreads disinformation regarding the successful pickets at the Port of Oakland.  The article's headline refers to "a small band of activists."  Within the article, protesters are described as, "a modest band of pro-Palestinian activists," and again as, "a small group of activists." [sic]  No evidence is given to back up this description of the picketers and it is far from the truth.
In reality, pickets against the Israeli owned Zim Lines ships have been large, at times massive, and thousands have participated in them.  This struggle has been taken up and pickets mobilized for by major organizations within the S.F. Bay Area's considerable Arab and Islamic and pro-Palestine community, as well as numerous social justice and anti-war organizations.  Below is a partial list of more than sixty groups that have signed on in support of the pickets to block the boat.  The pickets could not have won the unprecedented victory which they have without such broad community support.
The successful pickets at the Port of Oakland have given a boost to the international BDS movement to Boycott, Divest from, and Sanction Israel for its occupation and oppression of Palestinians.  The below article is an obvious attempt to characterize support for the BDS movement to "a small band of activists."  Here is a link to a video of one of the pickets that clearly puts the lie to the article's characterization: http://araborganizing.org/zim-ship-turned-away-from-ssa/
What the article does get correct is that there is considerable sympathy among longshore workers for the plight of Palestinians and their struggle for their rights.
Here is a link to the Block the Boat for Palestine page of Facebook: and info can also be obtained from: @blocktheboat -- #blocktheboat -- info@araborganizing.org
In solidarity,
Jonathan Nack
Block the Boat was organized by a coalition of autonomous activists and the following organizations:
AF3IRMAl-Awda New York; All African People's Revolutionary Party (AAPRP); American Friends Service Committee; American Muslims for Palestine; ANSWER Coalition; APEN: Asian Pacific Environmental Network; Arab Youth Organizing (AYO); AROC: Arab Resource & Organizing Center; ASATA: Alliance of South Asians Taking Action; Bay Area Women in Black; BAYAN-USA; Bay Area CodePink; Bay Area Latin America Solidarity Coalition; Berkeley Fellowship of Unitarian Universalists Social Justice Committee; Black Organizing Project (BOP); Black Organizing Leadership and Dignity (BOLD); Black Workers For Justice; Catalyst Project; CodePink Washington; Committee for Open Discussion of Zionism (CODZ); Communist Party of San Francisco; Critical Resistance - LA; Critical Resistance - Oakland; Critical Resistance - Portland; Descoloniza a Oakland/Decolonize Oakland; Free Palestine Movement; Freedom Archives; Friends of Deir Ibzi'a Fuerza Mundial/Pueblos en Movimiento; General Union of Palestine Students - SFSU; Global Women's Strike; Gray Panthers of San Francisco; Green Party of Alameda County; Haiti Action Committee; International Action Center; International Jewish Anti Zionist Network; International Solidarity Movement - West Bank/Gaza; International Socialist Organization; International Tribunal of Conscience for Camilo; ISM-Nor Cal; IWW Bay Area Branch; Jewish Against Genocide; Jews for Palestinian Right of Return; Justice for Palestinians; La Voz de l@s trabajadores/Worker's Voice; Labor for Palestine; Lake Merritt Neighbors Organized for Peace; Malcolm X Grassroots Movement; Marcha Patriotica (Colombia) - California chapter; Middle East Children's Alliance (MECA); Movement Generation; National Lawyers Guild SFBA Chapter; Noam Chomsky; NorCal Friends of Sabeel; Occupy SF Action Council; ONYX Organizing Committee; The Palestine-Israel Action Committee; Palestine General Federation of Trade Unions; Palestinian Youth Movement; Queers Undermining Israeli Terror; Samidoun Palestinian Prisoner Solidarity Network; San Francisco Green Party; School of the Americas Watch East Bay; Socialist Alternative - Bay Area Branch; Socialist Organizer; SOUL: School of Unity and Liberation; Southern Anti-Racism Network; Stanford Students for Justice; Stop the War Machine; Students for Justice in Palestine - Cal; Totally Radical Muslims; UAW Local 2865 (Academic Student Workers at the University of California); US Campaign to End the Israeli Occupation; US Campaign for the Academic and Cultural Boycott; US Palestinian Community Network; Veterans For Peace Chapter 69; World Can't Wait Bay Area; Workers World Party; Xicana Moratorium;
Re: Broken Promises to the Women of Afghanistan
With all due respect to Ms. Jones and her well written article, and fully recognizing that the prevailing culture of Afghanistan is primitive in the extreme in its often ghastly treatment of women, is it not hypocritical for people on the American Left to 'blame' the US for not liberating Afghani women?
Should the US be the world's police force, or shouldn't it? Shouldn't the Left make up its mind? By blaming the US for not liberating Afghani women, isn't Ms. Jones thereby tasking the US with righting all the world's wrongs?
That's certainly a tall task. Maybe we should increase our military budgets? Maybe we should station even more garrisons of troops around the world? Should we immediately send enough troops to Afghanistan to enforce 'women's liberation' in every village and tribe? Shall our troops be on call to come to the rescue whenever any tribal mullah fails to show sufficient respect and deference to his wife or daughter?
It is never flattering when we attempt to be on both sides of a fence. Advocating for 'cultural imperialism', while opposing US imperialism, does not strike me as a very enlightened position.
R. Zwarich
     ====
It is precisely because so many in the U.S. have a deep seated belief that U.S. interventions can bring "civilizing" or "democratizing" benefits to the countries it invades, that revelations such as those presented in Ann Jones' fine article regarding the betrayal of the U.S. commitments to Afghanistan's women are so important.
The "cynical waving of the feminist flag," as Ms. Jones put it, was successful in tempering the opposition to the U.S. invasion of Afghanistan by many who believed it would bring benefits to the women of Afghanistan. And she has made an important contribution by exposing U.S. duplicity.
One of the most important aspects of Ms. Jones' article is her description of Afghanistan as a society comprised of contending and conflicting forces, including forces historically committed to the advancement of women. Ms. Jones shows that in both its covert operations and during its occupation, the U.S. actively supported those anti-democratic forces most hostile to the interests of Afghanistan's women.
Her depiction of the hypocrisy and lies that made up the "popular sell" for the U.S. invasion is precisely the opposite of  "cultural imperialism." It challenges the "democratizing myth" so often used to justify U.S. interventions throughout the world.
I would add, sometimes we see contradictions where there is only complexity. There is nothing contradictory about opposing U.S. invasions and occupations, and at the same time holding the U.S. or any occupying power, responsible for the health and well being of the population under its occupation. In fact it is our responsibility to do so.
Mark Allen
Re:Chief U.S. Ally in War on ISIS Conducts 61st Beheading of 2014
Saudi Arabia cuts peoples' heads off frequently, but somehow we don't see or hear it reported often on the media
DL
Posted on Portside's Facebook page
     ====
Saudi America! Our best friends can do no wrong as long as the oil keeps flowing
Judith
Posted on Portside's Facebook page
     ====
Our head chopping friends in Saudi Arabia. Hey, New York Post. Aren't they savages too?
Kenneth Sullivan
Posted on Portside's Facebook page
     ====
yes, I was a little worried that they wouldn't make their annual target of 75-80 beheadings...but good to know they are on track. maybe ISIS taught them?
Rob Prince
Posted on Portside's Facebook page
Re: 106 IDF Ex-Generals, Spy Chiefs Urge New Peace Bid
Even the former generals and intelligence chiefs call for peace negotiations!
Alfred Rose
Posted on Portside's Facebook page
Re: Fukushima: A Problem for Future Generations and the World
This is why nuclear is not a good alternative energy source.
Lois Bergeson
Posted on Portside's Facebook page
Re: Organized Labor Takes on Race and Michael Brown
(posting on Portside Labor)
Awesome!
Frank Nelson
Posted on Portside's Facebook page
Re: Mississippi, Burned How the Poorest, Sickest State Got Left Behind By Obamacare
Well, I was there last in 1982. If I had to guess, I'd say lack of infrastructure. Tacking ACA onto no infrastructure is not gonna make the car go faster.
Jeff Stangel Dickens
Posted on Portside's Facebook page
Re: The Importance of Brazil's Elections
Thanks
Dan La Botz
Miners Shot Down: Film Screening & Discussion - New York - Nov. 10
Miners Shot Down (2014) Screening & Discussion with Director Rehad Desai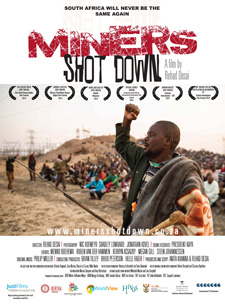 The Worker Institute invites you to a screening of an acclaimed documentary on the 2012 mineworkers strike in Marikana and a discussion of the current state of trade union politics in South Africa
Date: November 10, 2014
Time: 6:30 pm - 9:00pm
Location: ILR Conference Center, 6th Fl
16 E. 34th Street, New York, NY 10016
Please RSVP to Christine Long.
cal326@cornell.edu
In August 2012, mineworkers in one of South Africa's biggest platinum mines began a wildcat strike for better wages. Six days later, the police used live ammunition to brutally suppress the strike, killing 34 and injuring many more. Told from the perspective of the Marikana miners, Miners Shot Down, follows the strike from day one, showing the courageous but isolated fight waged by a group of low paid workers against the combined forces of the mining company, Lonmin, the ANC government and their allies in the National Union of Mineworkers.
The 2014 Elections: Who Won? Who Lost? - New York forum - Nov. 14
The 2014 Elections: Who Won? Who Lost?
With -
Sarah Jaffe, journalist and columnist for New Labor Forum
Juan Gonzalez, co-host, Democracy Now and columnist for The Daily News
Errol Louis, host, Inside City Hall, NY1 TV
Michael Hirsch, national editor, Politico
Moderator: Ed Ott, Distinguished Lecturer, The Murphy Institute
 Click on Link here to see invite and register!
Friday, November 14, 2014 from 9:30 - 11:15 AM
The Murphy Institute
25 West 43rd Street, 18th Fl.
New York, NY, NY 10036
Folk music greats to honor David Amram's life, Pete Seeger's legacy in concert - Long Island (NY) - Nov. 20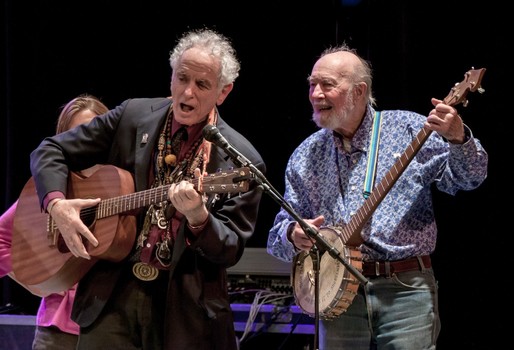 The greats of folk music including Peter Yarrow and Tom Chapin are gathering together in a concert that both celebrates the eclectic American composer and performer David Amram on his 84th birthday, while at the same time paying tribute to the iconic Pete Seeger.
On November 20, 2014 at 7pm, Producer Jason Samel of Movement Music Records in association with Love Revolution and Gold Coast Arts Center presents "David Amram's 84th Birthday Concert: Remembering Pete Seeger" at The Hillwood Recital Hall at Tilles Center on the LIU-CW Post Campus, 720 Northern Blvd, Brookville.
In what is being billed "the greatest folk concert Long Island has seen in decades," the evening's performers will include David Amram and his quintet (David Amram, Kevin Twigg, Rene Hart, Robbie Winterhawk and Adam Amram, Elliot Pepper) as well as friends he shared with the late Pete Seeger including Peter Yarrow (of Peter, Paul, and Mary), Tom Chapin, Holly Near, Guy Davis, Garland Jeffreys, Kim & Reggie Harris, Joel Rafael, The Amigos, The Chapin Sisters, Bethany & Rufus and the Connecticut State Troubadour Kristen Graves.
The concert is being organized by Samel, a Great Neck resident, to benefit the Gold Coast Arts Center, a 501 (c)(3) not-for-profit organization dedicated to supporting and promoting the arts through education, exhibition, performance and outreach, based in Great Neck.
David Amram is an American composer, conductor, multi-instrumentalist, and author and a master of many musical genres, making each accessible to a broader audience.
As a classical composer and performer, his integration of jazz (including being one of the first to improvise jazz on the French horn), folkloric and world music has led him to work with the likes of Dizzy Gillespie, Lionel Hampton, Willie Nelson, Langston Hughes, Charles Mingus, Pepper Adams, Leonard Bernstein, Sir James Galway, Tito Puente, Mary Lou Williams, Joseph Papp, Arthur Miller, Arturo Sandoval, Stan Getz, Pete Seeger, Elia Kazan, Christopher Plummer, Ingrid Bergman, Odetta, Lord Buckley, Dustin Hoffman, Steve Allen, Machito, Earl "Fatha" Hines, Allen Ginsberg, Nina Simone, Gregory Corso, Bob Dylan, Steve Goodman, Gerry Mulligan, Sonny Rollins, T.S. Monk, Hunter S. Thompson, Johnny Depp, Levon Helm, Betty Carter and Jack Kerouac.
Read more here.
60% Off PM Press 30 Best-Selling Titles of All Time until Nov. 12
Get 60% Off Our 30 Best-Selling Titles of All Time: Including books by Ursula K. Le Guin, Gord Hill, Peter Marshall, Silvia Federici, Selma James, Banksy, DVD's with Howard Zinn, Noam Chomsky, Naomi Klein, and more for the next 7 days!
Keep reading for more specials & Friends of PM information!
Be sure to keep your eyes out for our forthcoming Holiday Sale in late November where EVERYTHING we publish will be offered at a staggering 50% off